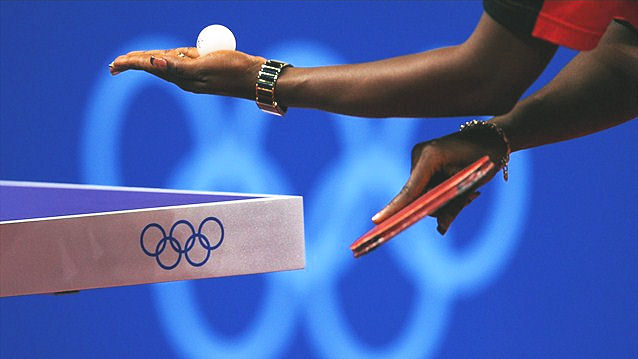 The draw for the Women's Singles at the 2012 Olympic Games table tennis event took place on Wednesday 25 July 2012.
The singles events followed the traditional knockout format and all matches were the best of seven games.
With 70 players taking part, the top 16 seeded players automatically advanced to the third round, whilst the players seeded 17-32 started in the second round and the players seeded 33-48 started in the first round.
All other players were drawn into the preliminary round.
You can see how they qualified for the women's singles here and see the women's singles seedings here.
Men's Singles Event results here
Women's Team Event results here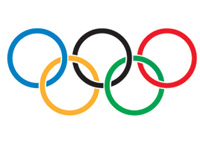 TABLE TENNIS E-BOOKS
4 E-books to Help Improve Your Game
| | |
| --- | --- |
| | If you want to play table tennis to a higher standard, you'll need these 4 E-books to improve your knowledge of the game. |
Preliminary Round (Seeds 49-70 start)
Saturday 28 July 2012
| Seeding / Player / NOC | Result | Seeding / Player / NOC |
| --- | --- | --- |
| 55 MEDINA Paula (COL) | Bye | |
| 49 ZHANG Lily (USA) | Bye | |
| 62 EL-DAWLATLY Nadeen (EGY) | Bye | |
| 63 OSHONAIKE Olufunke (NGR) | 4-3 | 66 SHAHSAVARI Neda (IRI) |
| | | |
| 60 RAMOS Fabiola (VEN) | Bye | |
| 50 HUANG MENDES Lei (POR) | Bye | |
| 58 SILVA Ligia (BRA) | 4-0 | 68 LULU Anolyn (VAN) |
| 53 HAN Xing (CGO) | Bye | |
| | | |
| 52 ZHANG Mo (CAN) | 4-0 | 69 MOHAMED Aia (QAT) |
| 56 MIAO Miao (AUS) | Bye | |
| 54 KUMAHARA Caroline (BRA) | 4-0 | 70 HASSAN FARAH Yasmin (DJI) |
| 61 HANFFOU Sarah (CMR) | 4-0 | 67 MOUMJOGHLIAN Tvin (LIB) |
| | | |
| 51 MESHREF Dina (EGY) | 4-2 | 65 EDEM Offiong (NGR) |
| 57 DAS Ankita (IND) | Bye | |
| 64 RODRIGUEZ Berta (CHI) | Bye | |
| 59 SILVA Yadira (MEX) | Bye | |
^ Top of page ^
First Round (Seeds 33-48 start)
Saturday 28 July 2012
| Seeding / Player / NOC | Result | Seeding / Player / NOC |
| --- | --- | --- |
| 45 BILENKO Tetyana (UKR) | 4-1 | 55 MEDINA Paula (COL) |
| 43 MOLNAR Cornelia (CRO) | 4-0 | 49 ZHANG Lily (USA) |
| 34 SKOV Mie (DEN) | 4-0 | 62 EL-DAWLATLY Nadeen (EGY) |
| 39 TAN Wenling (ITA) | 4-0 | 63 OSHONAIKE Olufunke (NGR) |
| | | |
| 37 TOTH Kristina (HUN) | 4-3 | 60 RAMOS Fabiola (VEN) |
| 40 KOMWONG Nanthana (THA) | 4-3 | 50 HUANG MENDES Lei (POR) |
| 48 LAY Jian Fang (AUS) | 4-1 | 58 SILVA Ligia (BRA) |
| 42 PRIVALOVA Aleksandra (BLR) | 4-2 | 53 HAN Xing (CGO) |
| | | |
| 52 ZHANG Mo (CAN) | 4-3 | 41 HU Melek (TUR) |
| 56 MIAO Miao (AUS) | 4-2 | 38 HADACOVA Dana (CZE) |
| 47 PARKER Joanna (GBR) | 4-0 | 54 KUMAHARA Caroline (BRA) |
| 33 XIAN Yifang (FRA) | 4-1 | 61 HANFFOU Sarah (CMR) |
| | | |
| 51 MESHREF Dina (EGY) | 4-3 | 35 NOSKOVA Yana (RUS) |
| 36 RAMIREZ Sara (ESP) | 4-1 | 57 DAS Ankita (IND) |
| 44 TIAN Yuan (CRO) | 4-0 | 64 RODRIGUEZ Berta (CHI) |
| 46 HSING Ariel (USA) | 4-0 | 59 SILVA Yadira (MEX) |
^ Top of page ^
Second Round (Seeds 17-32 start)
Sunday 29 July 2012
| Seeding / Player / NOC | Result | Seeding / Player / NOC |
| --- | --- | --- |
| 18 DODEAN Daniela (ROU) | 4-3 | 45 BILENKO Tetyana (UKR) |
| 25 KIM Jong (PRK) | 4-1 | 43 MOLNAR Cornelia (CRO) |
| 31 PARTYKA Natalia (POL) | 4-3 | 34 SKOV Mie (DEN) |
| 28 TIKHOMIROVA Anna (RUS) | 4-3 | 39 TAN Wenling (ITA) |
| | | |
| 28 CHEN Szu-Yu (TPE) | 4-3 | 37 TOTH Kristina (HUN) |
| 27 VACENOVSKA Iveta (CZE) | 4-1 | 40 KOMWONG Nanthana (THA) |
| 32 LI Xue (FRA) | 4-3 | 48 LAY Jian Fang (AUS) |
| 21 LIU Jia (AUT) | 4-2 | 42 PRIVALOVA Aleksandra (BLR) |
| | | |
| 30 LI Qiangbing (AUT) | 4-1 | 52 ZHANG Mo (CAN) |
| 20 HUANG Yi-Hua (TPE) | 4-0 | 56 MIAO Miao (AUS) |
| 22 SILBEREISEN Kristin (GER) | 4-1 | 47 PARKER Joanna (GBR) |
| 33 XIAN Yifang (FRA) | 4-2 | 17 RI Myong Sun (PRK) |
| | | |
| 24 SAMARA Elizabeta (ROU) | 4-1 | 51 MESHREF Dina (EGY) |
| 26 PESOTSKA Margaryta (UKR) | 4-1 | 36 RAMIREZ Sara (ESP) |
| 23 POTA Georgina (HUN) | 4-1 | 44 TIAN Yuan (CRO) |
| 46 HSING Ariel (USA) | 4-2 | 19 NI Xia Lian (LUX) |
^ Top of page ^
Third Round (Seeds 1-16 start)
Monday 30 July 2012
| Seeding / Player / NOC | Result | Seeding / Player / NOC |
| --- | --- | --- |
| 1 DING Ning (CHN) | 4-0 | 18 DODEAN Daniela (ROU) |
| 11 JIANG Huajun (HKG) | 4-2 | 25 KIM Jong (PRK) |
| 14 LI Jie (NED) | 4-2 | 31 PARTYKA Natalia (POL) |
| 5 FUKUHARA Ai (JPN) | 4-0 | 28 TIKHOMIROVA Anna (RUS) |
| | | |
| 6 FENG Tianwei (SIN) | 4-1 | 28 CHEN Szu-Yu (TPE) |
| 9 WU Jiaduo (GER) | 4-2 | 27 VACENOVSKA Iveta (CZE) |
| 10 SHEN Yanfei (ESP) | 4-0 | 32 LI Xue (FRA) |
| 3 KIM Kyungah (KOR) | 4-1 | 21 LIU Jia (AUT) |
| | | |
| 4 ISHIKAWA Kasumi (JPN) | 4-2 | 30 LI Qiangbing (AUT) |
| 15 LI Qian (POL) | 4-0 | 20 HUANG Yi-Hua (TPE) |
| 13 PAVLOVICH Viktoria (BLR) | 4-2 | 22 SILBEREISEN Kristin (GER) |
| 8 WANG Yuegu (SIN) | 4-0 | 33 XIAN Yifang (FRA) |
| | | |
| 24 SAMARA Elizabeta (ROU) | 4-2 | 7 TIE Yana (HKG) |
| 11 LI Jiao (NED) | 4-0 | 26 PESOTSKA Margaryta (UKR) |
| 16 PARK Miyoung (KOR) | 4-1 | 23 POTA Georgina (HUN) |
| 2 LI Xiaoxia (CHN) | 4-2 | 46 HSING Ariel (USA) |
^ Top of page ^
Fourth Round
Monday 30 July 2012
| Seeding / Player / NOC | Result | Seeding / Player / NOC |
| --- | --- | --- |
| 1 DING Ning (CHN) | 4-1 | 11 JIANG Huajun (HKG) |
| 5 FUKUHARA Ai (JPN) | 4-3 | 14 LI Jie (NED) |
| 6 FENG Tianwei (SIN) | 4-2 | 9 WU Jiaduo (GER) |
| 3 KIM Kyungah (KOR) | 4-1 | 10 SHEN Yanfei (ESP) |
| | | |
| 4 ISHIKAWA Kasumi (JPN) | 4-1 | 15 LI Qian (POL) |
| 8 WANG Yuegu (SIN) | 4-3 | 13 PAVLOVICH Viktoria (BLR) |
| 11 LI Jiao (NED) | 4-2 | 24 SAMARA Elizabeta (ROU) |
| 2 LI Xiaoxia (CHN) | 4-1 | 16 PARK Miyoung (KOR) |
^ Top of page ^
Quarter Finals
Tuesday 31 July 2012
| Seeding / Player / NOC | Result | Seeding / Player / NOC |
| --- | --- | --- |
| 1 DING Ning (China) | 4-0 | 5 FUKUHARA Ai (Japan) |
| 6 FENG Tianwei (Singapore) | 4-2 | 3 KIM Kyungah (South Korea) |
| | | |
| 4 ISHIKAWA Kasumi (Japan) | 4-1 | 8 WANG Yuegu (Singapore) |
| 2 LI Xiaoxia (China) | 4-0 | 11 LI Jiao (Netherlands) |
^ Top of page ^
Semi Finals
Tuesday 31 July 2012
| Seeding / Player / NOC | Result | Seeding / Player / NOC |
| --- | --- | --- |
| 1 DING Ning (China) | 4-2 | 6 FENG Tianwei (Singapore) |
| 2 LI Xiaoxia (China) | 4-1 | 4 ISHIKAWA Kasumi (Japan) |
^ Top of page ^
Bronze Medal Match
Wednesday 1 August 2012
| Seeding / Player / NOC | Result | Seeding / Player / NOC |
| --- | --- | --- |
| 6 FENG Tianwei (Singapore) | 4-0 | 4 ISHIKAWA Kasumi (Japan) |
| 11-9, 11-6, 11-6, 11-5 | | |
^ Top of page ^
Gold Medal Match
Wednesday 1 August 2012
| Seeding / Player / NOC | Result | Seeding / Player / NOC |
| --- | --- | --- |
| 2 LI Xiaoxia (China) | 4-1 | 1 DING Ning (China) |
| 11-8, 14-12, 8-11, 11-6, 11-4 | | |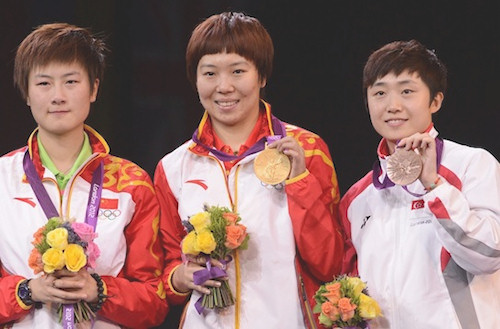 Ding Ning - Li Xiaoxia - Feng Tianwei
2012 Olympic Games
Women's Singles Event
GOLD MEDAL WINNER = LI Xiaoxia (China)
SILVER MEDAL WINNER = DING Ning (China)
BRONZE MEDAL WINNER = FENG Tianwei (Singapore)