Table Tennis Table Cover
Top tips to help you choose your ideal table tennis table.
Part five - which table top and table tennis table cover is best?
Part One | Part Two | Part Three | Part Four | Part Five | Part Six
In part one we looked at the size dimensions of a table tennis table and how your table will be used, and in part two we looked at whether an indoor or outdoor table tennis table would be more suitable for you.

In part three we looked at the different types of indoor tables available, and in part four we looked at the undercarriage designs.
So let's now take a look at one more vital component - the table top surface.

RECOMMENDED INFORMATION
The Fastest Way To Improve Your Table Tennis
Discover the fastest way to improve your table tennis and win three extra points, or more, in every game you play.

Click here for more details
Is the colour important?...
What colour surface is best?
The colour is important because it needs to provide a good contrast between the floor, walls and background colours of the playing area.
Traditionally, the surface of a table tennis table was green or grey, but to make them better for television audiences, there was a period of experimentation with different colours during the early 1990s.
A matt blue colour was eventually chosen, primarily because it complements the (reddish) colour of the floor covering which is now used for all the top tournaments.
The International Table Tennis Federation now only authorise blue or green tables but you may find that green tables are more readily available. However, the choice is yours!
But, more important than the colour is...
What thickness of table top do you need?
The thickness of the top surface will have a significant effect on its' playing characteristics. The best tables have wooden tops with a thickness of 25-28mm (1 inch).
Table tops can be made of plywood, particle-board, plastic, metal, concrete or fibre-glass and they can vary in thickness - some may only have as little as 17mm (0.67 inches) ... or even less.
But for major tournaments, only wood or wooden derivates are allowed.
I'd recommend...
that you buy the thickest wooden table top available, especially if the table will be used by top quality players. However, a thinner top surface may be more affordable and will be suitable for beginners.
By the way, did you know?...
If you intend to use your table for playing doubles as well as singles matches, you'll need to ensure that the table has a 3mm wide white line down the centre of the table.
So, after you've decided what thickness of table top you need and you've bought your table, you'll need to look after it, especially the playing surface.
Table Tennis Table Cover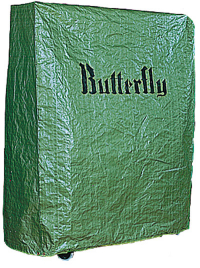 When your table isn't being used, a good table cover will help to extend its life span.
Table tennis tables need to be stored in a cool place to prevent warping of the table surface.
Moving your table between different climatic conditions - hot / cold / damp - will also have a detrimental effect on it.
You'll also find that over time, the top surface will start to lose adhesion and it'll become shiny, making the ball skid rather than bounce properly.
This will need to be rectified and you'll need to get an expert to repair, re-cover and re-paint the top surface - or else you'll need to replace the table.
You can buy table tennis equipment from this supplier
So ... once you've decided which table tennis table is best for you...
... who are the table tennis table manufacturers?
continued...
Part One | Part Two | Part Three | Part Four | Part Five | Part Six
RELATED PAGES ABOUT TABLE TENNIS EQUIPMENT
For more information, tips and recommendations about table tennis equipment, take a look at my other articles...
Table Tennis Rackets (paddles / bats)
Table Tennis Tables
Table Tennis Nets
Table Tennis Balls
Table Tennis Shoes
Table Tennis Robots
Table Tennis Manufacturers/Suppliers
Interviews with Table Tennis Manufacturers/Suppliers
Recommended Table Tennis Equipment