Table Tennis World Ranking
The table tennis world ranking list is a computerised rating system. So do you know who the best table tennis players are?

The International Table Tennis Federation (ITTF) produces a world ranking list by entering the results of matches played in authorised events into a computerised database.
Using these results, the ITTF is able to produce a current list of the best table tennis players in the world.
Separate ranking lists are produced each month for the top men and the top women table tennis players, but these lists are also sub-divided to produce lists for other categories ... such as ... only players under 21 years, or only players under 18 years or players by continent.

RECOMMENDED INFORMATION
The Fastest Way To Improve Your Table Tennis
Discover the fastest way to improve your table tennis and win three extra points, or more, in every game you play.

Click here for more details
So, let's take a brief look at how the lists are produced, which players dominate and then the world ranking lists themselves.
The basic principles
Players receive or lose rating points for each match played in an authorised ITTF event.
The winner gains a certain number of points whilst, at the same time, points are deducted from the rating of the loser.
The number of points won or lost depends on the relative strength of the two players involved.
Points are added or deducted in accordance with a rating points table.
"Expected results" are those matches where the winner had a higher rating than the loser whilst "Unexpected results" are those matches where the winner had a lower rating than the loser.
Wins against unrated players give no points to the winner.
When a rated player loses against an unrated player, 10 points are deducted from the rating of the losing player.
These calculations are carried out only on the basis of the rating points, without taking into account "Bonus Points" (see below).
Not all matches are equal
Because some table tennis events are more important than others, the rating points on offer are also different. This is known as "weighting".
The ITTF's Competition Department has classified events into three different tiers, and rating points are increased for the major events.
So, for events such as the Olympic Games, World Championships and World Cup, players receive double rating points, whilst for events such as the ITTF World Tour players receive points multiplied by a factor of 1.5.
Third tier events, such as the Commonwealth Games and Pan-Am Games, receive normal rating points.
And on top of that, there are...
Bonus Points
Bonus points, like rating points, are "weighted" and are awarded in four different tiers based on the event being played.
Bonus points are generally awarded on the basis of the final positions in knockout singles events.
However, in competitions where the knockout format is not used, up to 16 players may be given bonus points.
Additionally, bonus points are awarded wherever possible for third place and for other matches where intermediate positions are played for.
These bonus points remain valid for a period of 12 months only from the date of each bonus point earned.
Bonus points are not awarded for Team events, Qualifying events or Ranking (Consolation) events.
But how do you get on to the World Ranking list?
New players
Players enter the table tennis world ranking list as soon as they've had at least two wins against players already ranked.
Players are given Starting Points and these starting points are re-calculated each time a new World Ranking is produced, up to the moment a player reaches or passes the limit of five wins and five losses against already ranked players.
Then these "Starting Points" become final.
Inactive players
Players who've had no recorded international results for 12 months or more are excluded from the world ranking lists.
However such players will retain their rating points until they become active again.
This means that in the interim, they still have rating points, and these points could still be used for seeding purposes.
So how often are the table tennis world ranking lists issued?
When are table tennis world ranking lists issued?
The ITTF was founded in 1926, and in 1928 they published the first World Ranking list for men and for women.
For many years these rankings were only issued once a year, sometimes twice ... but in 1991, with the assistance of computers, this frequency gradually increased.
Now they're produced on a monthly basis and are generally issued on the first day of the month.
Who dominates the world ranking lists?
Well, as you might expect, the Asian players, particularly the Chinese table tennis players, dominate the table tennis world rankings.
Timo Boll and Dimitrij Ovtcharov from Germany, Vladimir Samsonov from Belarus and Michael Maze from Denmark are the only non-asian players currently in the top 20 of the men's world rankings, whilst there are only two non-asian players in the top twenty of the women's world rankings (although some of them now represent other countries).
Three of the best men in the World Ranking List - All Chinese!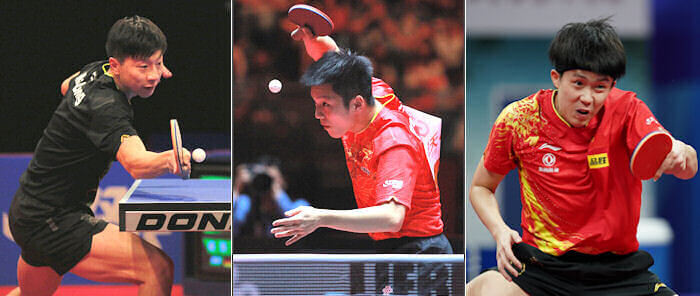 Latest table tennis world rankings
Please check this page each month for an update.
MEN (May 2013)
Ranking
Player (Family Name, Given Name)
Country
1
XU, Xin
China
2
MA, Long
China
3
WANG, Hao
China
4
ZHANG, Jike
China
5
BOLL, Timo
Germany
6
CHUANG, Chih-Yuan
Chinese Taipei
7
OVTCHAROV, Dimitrij
Germany
8
MA, Lin
China
9
WANG, Liqin
China
10
MIZUTANI, Jun
Japan
11
SAMSONOV, Vladimir
Belarus
12
HAO, Shuai
China
13
JOO, Saehyuk
South Korea
14
YAN, An
China
15
JIANG, Tianyi
Hong Kong China
16
GAO, Ning
Singapore
17
CHEN, Qi
China
18
MAZE, Michael
Denmark
19
OH, Sangeun
South Korea
20
RYU, Seungmin
South Korea
more...
WOMEN (May 2013)
Ranking
Player (Family Name, Given Name)
Country
1
DING, Ning
China
2
LIU, Shiwen
China
3
LI, Xiaoxia
China
4
FENG, Tianwei
Singapore
5
GUO, Yan
China
6
ZHU, Yuling
China
7
SHEN, Yanfei
Spain
8
ISHIKAWA, Kasumi
Japan
9
WU, Yang
China
10
KIM, Kyungah
South Korea
11
CHEN, Meng
China
12
FENG, Yalan
China
13
FUKUHARA, Ai
Japan
14
JIANG, Huajun
Hong Kong China
15
PAVLOVICH, Viktoria
Belarus
16
GUO, Yue
China
17
SEOK, Hajung
South Korea
18
WANG, Yuegu
Singapore
19
SAMARA, Elizabeta
Romania
20
YANG, Haeun
South Korea
more...
To see the top 132 players on the latest table tennis world ranking lists, you can download the attached files below.
Please check this page each month for an update.
These are pdf files. What's a pdf file?
A pdf file is just a type of computer file (like a Word doc file) that requires a particular computer program (like Microsoft Word) to be able to view it.
However, the good news is that the computer program you require - Adobe Acrobat Reader - is free and is pre-installed on all new computers.
But, even if you have an older computer and don't have this program installed on your computer already, you can download it here for free right now from the Adobe website.
Notes:
Players' positions on the previous ranking list are shown in brackets in column 2.

(<<) = no change in position from the previous ranking list

(unr) = did not appear on the previous ranking list

New players are marked as follows:

"n" the first time they enter the ranking list

"r" in the period during which their Starting Points are re-assessed, ie from the moment they reached 2 wins until the time they reach 5 significant wins and 5 significant losses

"f" in the first list where their Starting Points have become final.

Players marked * have had no results entered for 6 months, and players marked ** have had no results entered for more than 1 year.

These players may re-enter the lists if a result is entered for them in the future.
These are pdf files.
RELATED PAGES ABOUT TABLE TENNIS PLAYERS
For more information about table tennis players, take a look at my other articles...
Table tennis players
Table tennis player profiles
Table tennis player interviews
World Rankings