Sierra Vista Table Tennis Club
Submitted by Larry
(Sierra Vista, Arizona)
Sierra Vista Table Tennis Club
Sierra Vista Table Tennis Club is located in Sierra Vista, Arizona, USA.
We have 2 facilities, one is city owned and one is privately owned, built just for our club.
The details are...
Ethel Berger Center, 2950 East Tacoma St., Sierra Vista, AZ, 85635
Every Tuesday, Thursday, and Friday from 8:30 AM until 12:00 Noon.
In the city owned location we set up 4 tables, 3 days a week.

Roy's Place, 7433 Brumby Lane, Sierra Vista, AZ 85635
Every Monday from 6:00 PM until 8:00 PM
Every Saturday from 8:30 AM until 11:30 AM

In the privately owned location we have 6 quality table tennis tables permanently setup.

UPDATE: April 2018 - Submitted by Bill - Due to the death of Roy, the property in Sierra Vista was sold and "Roy's Place" is no more.

We also have a warm up table, a serving practice table and a robot table.
We play 2 or 3 times a week with Saturday mornings being our club league.
We also play the Senior Games table tennis at this location where we have approximately 55 - 60 players attending each year.
We have approximately 35 club members.
More information, including maps to each location, photos of our club and members and a lot of other information can be found on our web site...
www.sierravistatabletennisclub.org
This page was written and submitted by a visitor to
All About Table Tennis.com
If you wish to contact this table tennis club
please use the details (if any) given above

FIND MORE TABLE TENNIS CLUBS ADDED BY MY VISITORS
***z-adsense-center.shtml***
Go to a list of all table tennis club details added by my visitors...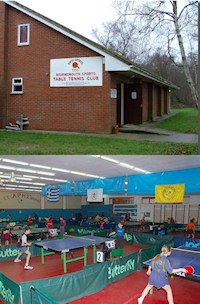 Add details about YOUR club here