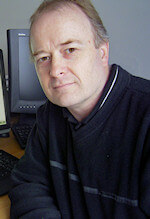 Hi. My name's Martin and I live on England's south coast.
I've been playing, organising and writing about table tennis since 1971.
So if you've got a question about table tennis, there's a good chance I'll be able to answer it. (NOTE: Please check the answers to the most frequently asked questions here).
I'd also love to hear what you think about this web site ... whether there's anything you'd like to see more of ... or anything you'd like to see added.
Unfortunately there's so much spam in the email system that I can't put my email address here, so please use the form below.
Thanks. I look forward to hearing from you.
Best wishes,

PS. PLEASE make sure you include your correct email address, as I cannot send you a reply unless you give me your correct email address.