Table Tennis Clubs
Whether you're looking for an existing club or you want to know how to set up your own
you'll find all the details here...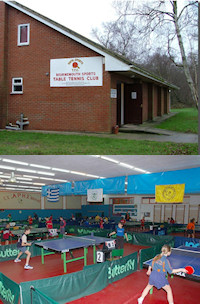 There are thousands of table tennis clubs all around the world, but the standard of these clubs vary enormously.
Some are at an advanced level and offer training camps and coaching programmes, whilst others only have basic facilities.
But wherever you are in the world, there's a good chance that there'll be a club not far from you.
So whether you're searching for a table tennis club to play at, or you're looking to set up a new club in your area, I've put together some great information to help you on your way.
So let's first take a look at how to find a club. Where do you...
Start your search
In my experience, finding a table tennis club isn't always easy, so you may have to spend a bit of time doing your research before you find one.
Some clubs aren't easy to find because they're not affiliated to other organisations and therefore they're not recorded on any central lists.
These are usually small clubs with just a few players, but these types of clubs often welcome new players. You just have to find them!
So, how can you start your search for a table tennis club?
Well, there are several different ways.
You can start your search by contacting...
National Associations
Table tennis is an organised sport in most parts of the world, and most countries have a "National Association" (NA) who are responsible for organising and governing table tennis within their own country or territory.
These National Associations affiliate to the world governing body - the International Table Tennis Federation (ITTF) - so that they can govern the sport in their own country or territory in accordance with the ITTF guidelines.
So, as there are 226 National Associations affiliated to the ITTF, it's likely that YOUR country has a NA that can help you.
These National Associations maintain details of existing clubs, provide help to to people who want to start new clubs, and provide assistance to existing clubs in their own country.
So they'll usually be able to provide you with details of clubs and/or people who you can contact for further information.
However, it's worth noting that not all table tennis clubs are affiliated to their NA, so the NA may not be able to give you any information about those particular clubs.
So, if you want to find out whether there is a NA covering your country, and/or contact them, you can find a current list of National Associations here.
Alternatively you can do you own local research, which we'll take a look at next.
If your National Association can't help you, you can also do a...
Local search
If you're already in the area that you want to find a club in, you can ask people locally if they know anywhere that you can play table tennis.
You can ask at schools, colleges, universities, sports centres, churches and at companies that employ large numbers of people.
These types of places often have their own clubs or know about any local clubs.
Additionally, the local telephone and other directories are a great resource. Or you can ask at local libraries and tourist information centres about any clubs in the local area.
I've also put together another great resource for you with a...
List of table tennis clubs
I've also assembled a list of table tennis clubs around the world which have been submitted to my site by members of the club itself.
You'll also find additional details about that area of the world on these pages.
So if you're looking for a club in these areas of the world, take a look at the following pages...
or click on the area you're interested in...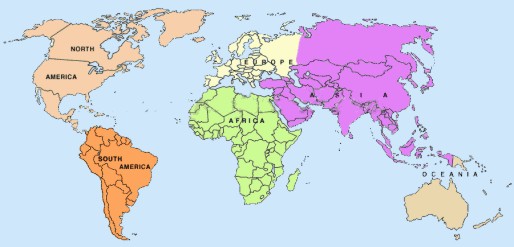 However if there isn't a table tennis club in your area, you might be interested in starting your own.
How to start a table tennis club
If you're in a part of the world or a local area that doesn't have a table tennis club, and you'd therefore like to start your own, I've put together some information to help you on your way.
You'll find information about...
MORE PAGES ABOUT
TABLE TENNIS CLUBS
For more information about table tennis clubs, take a look at these pages too...
Running a table tennis club
Finding a table tennis club
How to find a table tennis club in...