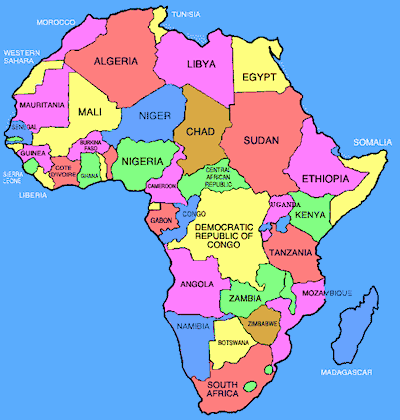 If you're searching for a table tennis club in the African region of the world, I've gathered together some resources to help you on your way.
Firstly, I have a list of table tennis clubs in Africa which have been submitted by visitors to my web site.
You can view the list right here.
And if you belong to a table tennis club in Africa yourself, why not add YOUR CLUB to the list ... it's really easy to do.
Additional, general, information about how to find table tennis clubs in your area can also be found here.

Alternatively, if you're looking for a South African TT club try the South African TT Board web site.
There's loads of information including results, table tennis tips and who to contact for further information.
Other african table tennis associations affiliated to the International Table Tennis Federation are...
Algeria, Angola, Benin, Botswana, Burkina Faso, Burundi, Cameroon, Central Africa, Chad, Comoros, Congo Brazzaville, Congo Democratic, Cote D'ivoire, Djibouti, Egypt, Equatorial Guinea, Ethiopia, Gabon, Gambia, Ghana, Guinea, Kenya, Lesotho, Liberia, Libyan Arab Republic, Madagascar, Malawi, Mauritania, Mauritius, Morocco, Mozambique, Namibia, Niger, Nigeria, Rwanda, Senegal, Seychelles, Sierra Leone, Somalia, South Africa, Sudan, Swaziland, Tanzania, Togo, Tunisia, Uganda, Zambia and Zimbabwe.
You can find contact details for these National Associations here.
^ Top of page ^
| TABLE TENNIS CLUB | LOCATION |
| --- | --- |
| Liberia United Table Tennis Club | Monrovia, Liberia |
| St.Teresa Table Tennis Club | Nairobi, Kenya |
| FHOK Youth Centre -Table Tennis Club | Nairobi, Kenya |
| Spinmasters Table Tennis Academy | Harare, Zimbabwe |
| Callies Table Tennis Club | Port Elizabeth, South Africa |
| Ehlanzeni Table Tennis Association | Nelspruit, South Africa |
| Kanyamazane Table Tennis Club | Mpumalanga Province, South Africa |
| Maties Table Tennis Club | University of Stellenbosch, Western Cape, South Africa |
| Top Table Tennis Club | Belhar, Cape Town, South Africa |