Table Tennis Question about
the serve hitting edge or line
This question was submitted by Val from Colchester, UK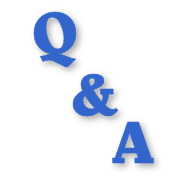 My question is about the service hitting the lines or edges of the table.
When serving, doubles or singles, if the ball lands on the receiver's side...
on the white lines, or
on the edge of table
so that it's unreturnable; is this a legitimate service?
This has cropped up in our club games.
I do realise that this is difficult to practise for, but it means that, if allowed, speed of service is not necessary, but accuracy can prevent any sort of rallies!
Val
----- Martin's Reply -----
Val,
Thanks for your question.
In both cases, it's a legitimate service.
Let's take a look an example of the ball hitting the...
Edge of the Table
Here's a video clip showing two of the best players in the World, playing in the 2019 World Championships.
Vladimir Samsonov (red shirt) is serving to World Champion, Ma Long (black shirt). Samsonov's serve hits the edge of the table, making a return virtually impossible.
You can see that Samsonov is slightly embarrassed by his good fortune, but both players know that it's a legitimate service, albeit fairly unusual.
Let's now consider the...
White Lines
The rules state that the playing surface comprises the entire top surface of the table, including...
the 3mm wide centre line
the 2cm wide side lines
the 2cm wide end lines, and
the top edges
...but not the vertical sides.
Therefore, if the ball touches the white centre line during the service in doubles it's "in" (good).
N.B. The white centre line has no purpose in singles matches.
In addition, if the ball touches the side line or end line in singles or doubles, it's "in" (good).
The vertical sides are NOT part of the playing surface, so whenever the ball hits a vertical side it's "out" (not good).
More Information
For more details about lines and edges, see my other article here... www.allabouttabletennis.com/table-tennis-rules.html
FIND MORE TABLE TENNIS QUESTIONS ASKED BY MY VISITORS