Table Tennis Magazine
Is there a table tennis magazine for followers of the game?
Where and when is it published? Find out here...
With the recent meteoric rise of the internet, you could be forgiven for thinking that there's no longer any need for table tennis magazines.
Well the reality is that, even though there's so much information available online, there are still several table tennis magazines available for the table tennis enthusiast.
Read my downloadable books for the best information
So let's start with the most authoritative magazine ...
Table Tennis Illustrated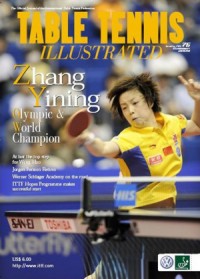 The International Table Tennis Federation (ITTF) produce a TT magazine entitled Table Tennis Illustrated four times a year.
With around 60 pages per issue, it contains high quality action pictures, background stories and news from the ITTF Pro Tour, the Junior Circuit, the Development Programme and much much more.
You'll also find articles entitled "Table Tennis Superstar" and "Tomorrow's Star" where an established and an upcoming top player are introduced each time.
Table Tennis Illustrated was first published in July 1996 and is an international production with contributors from all over the world.
It's currently designed in Japan and printed in Slovakia.
Update - April 2010:
The ITTF is striving to improve its internal and external communication tools.
Therefore some modifications have been made to the ITTF publications with more focus on the promotion of table tennis.
Table Tennis Illustrated (TTI) has been discontinued and instead, the ITTF will publish the plush pictorial Table Tennis Fascination in 5 languages covering the ITTF's title events. And as of 2011 it will include a Continental section.
In addition, the ITTF will increase the frequency of production of their Development Magazine in order to compensate for the loss of the development sections in TTI.
But it's not the only TT magazine available ...
Table Tennis Magazine in the USA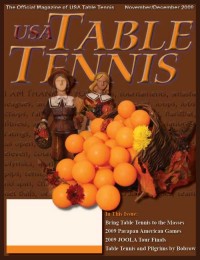 In the United States, the USATT, who are the governing body of the sport in the USA, produce the only TT magazine in the United States, USA Table Tennis.
Produced six times a year, the magazine contains official rankings and ratings, official announcements regarding rule changes and interpretations, schedules for sanctioned tournaments, articles about players of all ages, coverage of top players and major tournaments, plus other news and events.
The magazine aims to provide diverse content to a very diverse group of readers, many of whom are non-traditional Americans and Immigrants, with many being of Asian or European decent.
The USA TT Magazine has been in existence since 1970 and has freelance writers bringing stories from all over the US and abroad, ensuring that the magazine offers a wide-variety of interesting articles and stories.
Update - 2014:
The USATT have announced that from 2014 they will only publish a digital version of their magazine.
And in Europe, there are many official TT magazines including...
Table Tennis News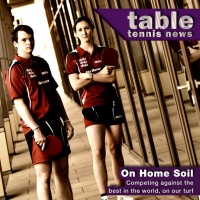 Table Tennis News is the official magazine of the English Table Tennis Association (ETTA - now known as Table Tennis England) and provides excellent features and pictures.
With contributions from Matthew Syed, Richard Eaton, Paul Rainford and Steve Kerns, together with a lively letters column, the magazine continues to thrive.
An official ETTA Magazine has been in existence since 1934.
Initially it was simply called "Table Tennis" and was merely a single sheet. But by 1937 it had grown to 16 pages.
However, Table Tennis News as we know it today started in December 1966 and ran in a newspaper sized format before changing to a traditional sized magazine in October 1968.
Update - August 2010:
The ETTA have announced that they will no longer publish Table Tennis News.
And in other parts of Europe, there are more TT magazines ...
France Tennis de Table Magazine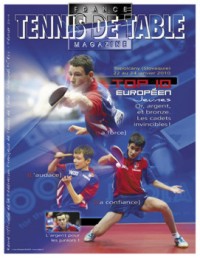 The French Table Tennis Association produce their own TT magazine - France Tennis de Table Magazine - with eleven issues a year.
It features portraits of top players, interviews, tips and much, much more.
And the German Table Tennis Association's official table tennis magazine is...
Tisch Tennis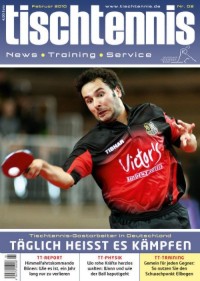 The German Table Tennis Association produce their own table tennis magazine - Tisch Tennis - with twelve issues a year.
It features practical training tips for coaches and players from renowned experts, together with portraits, interviews and insider information on the stars of the game.
There are plenty of other articles too about table tennis in Germany and world wide.
And in addition, this table tennis magazine provides table tennis clubs with the latest information on issues of organization, financing and management.
Whilst in Sweden their magazine is named simply...
Table Tennis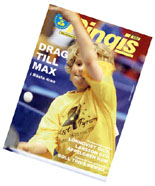 The Swedish Table Tennis Association Journal began to appear in 1947 - then known as the "Swedish Table Tennis".
In 1966 the name was changed to "GT" magazine before gaining its present name Table Tennis in 1972.
Table-tennis magazine is published six times a year and follows Sweden's top competitions and national team players, youth players, clubs and international celebrities.