Anacortes Table Tennis Association
Submitted by Vince Streano
(Anacortes, Washington. USA)
Our club is located in Anacortes, Washington, USA.
Anacortes is about half way between Seattle, Washington and Vancouver, British Columbia, Canada.
The Anacortes Table Tennis Association is an organization dedicated to the sport of table tennis.
Anyone who is interested in the sport of table tennis is welcome to play.
We play twice a week on Tuesday and Thursday evenings beginning at 7PM in the gym at the Anacortes Middle School.
We have ten tables and a ping pong robot.
Our club has member competitions as well as an annual Anacortes Open tournament.
Contact: vstreano @ cnw.com
This page was written and submitted by a visitor to
All About Table Tennis.com
If you wish to contact this table tennis club
please use the details (if any) given above

FIND MORE TABLE TENNIS CLUBS ADDED BY MY VISITORS
***z-adsense-center.shtml***
Go to a list of all table tennis club details added by my visitors...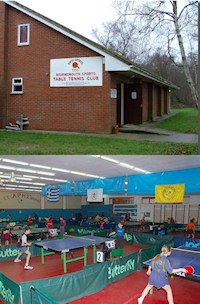 Add details about YOUR club here