Bethany Table Tennis Club
Submitted by David Strang
(Connecticut, USA)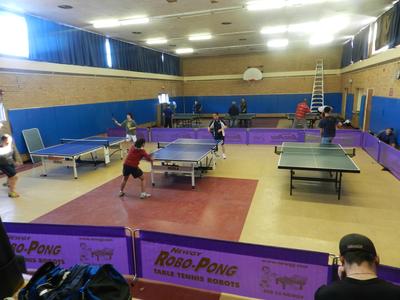 Main Tables 1-6 (of 8) Bethany TTC
Bethany Table Tennis Club is located in Bethany, Connecticut, USA.
We are at Bethany Town Hall Gym, 40 Peck Rd., Bethany, CT.
Take state rte. 63 North from New Haven I-15 exit 59, or take rte 63 south from Waterbury, Naugatuck or I-84 to Bethany, CT.
Then Turn onto Peck Rd. at the Fire House.
It is the newest location of Coach Strang's Connecticut Table Tennis Association with additional play in Fairfield, CT. about 30 miles/minutes away.
Bethany TTC began by Central Connecticut Table Tennis Association in January 2013 at the request of the Bethany Parks and Recreation Staff after one of Coach Strang's students was observed playing with his wife in the Department's Game room, and they were excited after seeing how well an adult recreational player played based on previous club experience and coaching at CT TTA's other club locations.
Originally begun as NorthEast Table Tennis Association (NETTA) in 1990, Coach Strang previously operated New Haven County clubs near Bethany in Woodbridge and Hamden and a Youth program in Fairhaven and founded the Fairfield TTC in 1995. Strang also conducted the Middletown Table Tennis Club from 1992 to 2010, and the Akron Table Tennis club in Ohio from 1978 to 2008.
Visitors are welcome for any CT. TTA club session in Bethany or it's other locations.
The cost is - drop in for $10 per visit or play 5 times for $45.
Open play occurs Sunday evenings 6:30pm to 10:30pm. Times may be seasonal at this location. Visit www.RealTableTennis.net for current schedule and contact information to confirm current schedule.
We have 6 table tennis tables in the gym, with 2 more possible in a nearby room. They are Joola and Butterfly Pro Tables, and we also have a Newgy Robot and court surrounds.
We have hundreds of yearly visitors, averaging about 20 players per playing date.
We play open play currently, but special club tournaments or leagues may occur at times.
Bethany Table Tennis Club has friendly players of all ages and skill levels from novice to expert (USATT ratings 0500 to 2200+) with coaching available. Occasional players notice the friendliness of our players and regular players notice the regular skill improvement of nearly every local player.
Club coach and director Dave Strang, former National College Finalist and many time state champion in Youth, Men and Master Singles and Doubles, is available for equipment and playing advice included in club fees, or one-on-one instruction from $25 featuring topspin technique taught using the Newgy Robot.
For more information contact coach Dave Strang.
Telephone:
(203) 525-6194
Email:
[email protected]
Our club web site is: www.RealTableTennis.net
This page was written and submitted by a visitor to
All About Table Tennis.com
If you wish to contact this table tennis club
please use the details (if any) given above