Bournemouth Sports
Table Tennis Club
Submitted by Tony
(Bournemouth, Dorset, UK)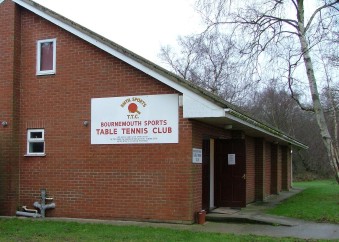 Bournemouth Sports Table Tennis Club
Bournemouth Sports Table Tennis Club is in England, just outside Bournemouth, Dorset and is close to Bournemouth Airport.
We have a dedicated building which was purpose built as a table tennis club in the early 1990s.
The table tennis club is based within a larger sports club which has grass football, rugby and cricket pitches, artificial pitches for football and hockey, a rifle range and a club house.
We use Butterfly Europa 25 Anti Skid tables and have a wooden floor with flourescent lighting.
We have space for up to four table tennis tables for league matches, although we usually only use three tables in order to have more room.
Bournemouth Sports Table Tennis Club is wheelchair friendly and has separate toilets, a shower, a small catering area and a balcony.
The club has achieved the English Table Tennis Association's "Premier Club/Clubmark" status and we have around 100 members.
We enter several teams into the Bournemouth TT League and the Poole TT League and the club is also used on Thursday evenings as the venue for the premier competition in Dorset - Poole Pairs - when all the top players compete.
The club also has some current and former England International table tennis players amongst its membership, including Matthew Ware, George Downing, Hannah Hicks, Sanja Clements, Tony Clayton and Brian Burn.
Coaching is also offered, primarily aimed at junior players.
The club is available for table tennis 24/7, but is a members only club.
However, visitors are welcome to come to the club on a Sunday evening from 7pm onward to try it out before deciding whether to join.
For further information contact:
Colin Bryson
Telephone: 01202 768022
Our website address is...
www.bournemouthsportstabletennisclub.co.uk
This page was written and submitted by a visitor to
All About Table Tennis.com
If you wish to contact this table tennis club
please use the details (if any) given above