British Energy Table Tennis Club
Submitted by George Evans
(Stroud, Gloucestershire. UK)
My club, EDF Energy Table Tennis Club (formerly the British Energy Table Tennis Club), play in the Gloucester Table Tennis League in Gloucestershire, England.
We play in a bowls pavilion at the EDF Energy site in Barnwood, in Gloucester and our address is EDF Energy, Barnett Way, Barnwood Gloucester, GL4 3RS
We are only a small club with one table and this season we have only one team and play in Division 2 (out of 4 in total) of the Gloucester league.
This is my fifth season playing for EDF Energy, after playing for four years for another club in the league.
In total six players currently play for EDF Energy. They are Andy Howe captain, myself (George Evans), Dave McIntosh, Dave Moore, Matthew Sproston and Dave Eaton (long serving secretary of the club).
To join the club, players pay an annual fee of £30 to register with the site's sports and social club.
The club doesn't offer coaching but we have practice sessions on a Wednesday during the summer months prior to the season starting.
The playing conditions are of a very good standard, with good lighting, solid flooring and a fast/reliable bouncy table.
Apart from the club playing in the Gloucester Table Tennis League, we also take part in the league's Handicap Cup which is a knockout tournament held through the season from teams in Div 1 right the way down to Div 5.
For further information contact:
Name: George Evans
Email:
[email protected]
This page was written and submitted by a visitor to
All About Table Tennis.com
If you wish to contact this table tennis club
please use the details (if any) given above

FIND MORE TABLE TENNIS CLUBS ADDED BY MY VISITORS
***z-adsense-center.shtml***
Go to a list of all table tennis club details added by my visitors...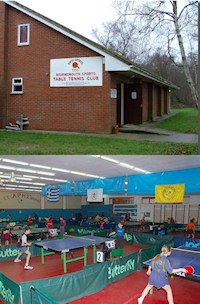 Add details about YOUR club here