Castle Donington Table Tennis Club
Submitted by Mike Starkie
(Melbourne, Derby, UK)
Castle Donington Table Tennis Club is in Melbourne, Derby, England.
We were founded in 1977 initially as a "Ping Pong Club".
However Stuart Russell was a successful league player in the Derby & District League, and had the idea of entering a team in this league.
This team consisted of Stuart, his teenage son Neil, and myself, Mike Starkie and we joined in Division 5.
We started playing in the Community college, but soon moved to the Baptist Hall, where we stayed for over 30 years until the upkeep of the hall became too much.
After a short spell in a local school we moved to Shardlow village hall, and are happily settled there, where the conditions are probably second to none in the league, including a sprung wooden floor which is something of a rarity nowadays.
We run 3 teams at present and we are always looking to recruit keen players to play league table tennis.
This page was written and submitted by a visitor to
All About Table Tennis.com
If you wish to contact this table tennis club
please use the details (if any) given above

FIND MORE TABLE TENNIS CLUBS ADDED BY MY VISITORS
***z-adsense-center.shtml***
Go to a list of all table tennis club details added by my visitors...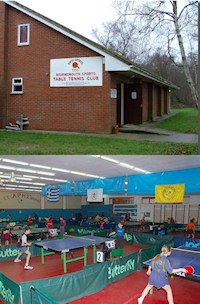 Add details about YOUR club here