You Are Here: Home » Visitor submissions
Chelsea Table Tennis Club
Submitted by Dean Mallory
(Chelsea, Quebec, Canada)

Chelsea Table Tennis is located at the 90 year old Larrimac Golf Club - 1148, Route 105 in Chelsea, Quebec in Canada.

Our club started in Nov. 2015 and has been steadily growing in popularity - we're located 15 minutes from downtown Ottawa in the beautiful national parkland of the Gatineau Hills.

We have 3 quality tables and play on a hardwood surface that is easy on the joints.

In the adjacent bar/lounge we have 2 dartboards where you can relax with a drink before, during or after playing.

Visitors and players of all skill levels are welcome - we charge a $6.00 drop in fee and are open Wed evenings 6:00 - 9:30pm and Sun. 2:00 - 5:00pm and the Club is open from early November through to the first week of April (non-golfing season).

All players are assured equal playing time in 20 minute increments measured with digital timers on each table.

We feature ongoing clinics and tournaments and include play for Recreational, Intermediate and Advanced levels.

We have loaner rackets available for guests, along with 40mm 3 star table tennis balls.

Our club is a warm and friendly place to drop in for a game or visit with friends.


For more information
Web: www.chelseatabletennis.com
This page was written and submitted by a visitor to
All About Table Tennis.com
If you wish to contact this table tennis club
please use the details (if any) given above

FIND MORE TABLE TENNIS CLUBS ADDED BY MY VISITORS
***z-adsense-center.shtml***
Go to a list of all table tennis club details added by my visitors...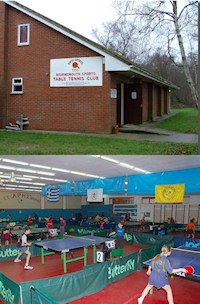 Add details about YOUR club here
^ Top of page ^
Index for more articles in this section here
^ Top of page ^
You Are Here: Home » Visitor submissions