Easton-in-Gordano Table Tennis Club
Submitted by Andrew
(Pill)
Easton-in-Gordano Table Tennis Club is located in North Somerset, England.
We play at the Church Hall, Easton-in-Gordano (near Bristol) just off Junction 19 of the M5 motorway.
Our table tennis club has been going since 1956 when the Church Hall was first opened, but is now in need of some new members.
We are a Social Club but have developed into a feeder club for Nailsea Table Tennis Club, the largest club in the Bristol League.
Visitors are welcome and it currently costs £2 per session for adults.
We play on Thursday nights from 7.30 pm to 9.45 pm, from September to April.
We have four tables but only use 3 in doubles mode, and the lights are adequate for a Social Club.
We currently average around 10 players from a membership of about 14 players.
We have a very good blend of fun and competitiveness.
Both the 2010 and 2011 Bristol Junior Champions started playing table-tennis with us before developing their game with Nailsea TTC and a Summer Coaching Course that was held at our club.
For more information contact...
Andrew Paisey, Club Treasurer.
Emal:
[email protected]
This page was written and submitted by a visitor to
All About Table Tennis.com
If you wish to contact this table tennis club
please use the details (if any) given above

FIND MORE TABLE TENNIS CLUBS ADDED BY MY VISITORS
***z-adsense-center.shtml***
Go to a list of all table tennis club details added by my visitors...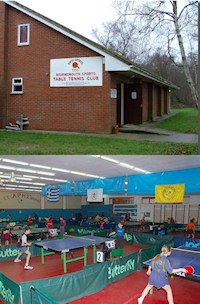 Add details about YOUR club here