Falmouth Docks Table Tennis Club
Submitted by Jerry Williams
(Falmouth, England)
Falmouth Docks Table Tennis Club is the oldest club in the South West and we believe one of the oldest in England.
It is also the biggest in the South West with 155 members.
We can only play in one league because of our westerly position and that is the West Cornwall League. But it is a good league, well run with four strong divisions.
Falmouth Docks currently has 11 teams. Our league matches are played out of Penwerris Church Hall in Falmouth but our club nights are held every Thursday at Penryn Sports College just outside of Falmouth.
We have 15 tables on club night and expect 3 more soon. It is not uncommon for 50 players to attend our club night ranging from a very strong county standard to beginners and learner adults.
The best thing about our club is that it attracts so many people of so many varying standards. It has a warm and friendly atmosphere with coaching, a robot, drills and exercises and social interaction.
Visitors are welcome and the cost of the clubnight which runs from 7.00 - 9.30 each Thursday is just £ 2.00 per player.
Please have a look at our website on www.falmouthdocksttc.org.uk
This page was written and submitted by a visitor to
All About Table Tennis.com
If you wish to contact this table tennis club
please use the details (if any) given above

FIND MORE TABLE TENNIS CLUBS ADDED BY MY VISITORS
***z-adsense-center.shtml***
Go to a list of all table tennis club details added by my visitors...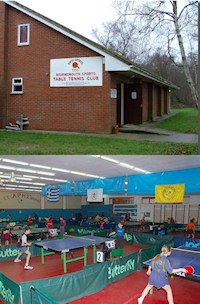 Add details about YOUR club here