Fitchburg Table Tennis Club
Submitted by Tom Smith
(Fitchburg, MA, USA)
The Fitchburg Table Tennis Club is located in Leominster, Massachusetts, USA.
We operate a warm and friendly club and have been in operation since the 1980s.
We meet on Monday and Thursday nights from 6:30pm to 10pm.
We have five butterfly tables and use orange Nittaku 3-star balls.
We generally play a round-robin format with doubles later in the evening.
We have approximately twenty players, both men and women, with various levels of play.
Walk-ins always welcome. Membership is not required. The entrance fee is $5 and the club supplies bottled water.
Please visit our website at www.fitchburgttc.com
This page was written and submitted by a visitor to
All About Table Tennis.com
If you wish to contact this table tennis club
please use the details (if any) given above

FIND MORE TABLE TENNIS CLUBS ADDED BY MY VISITORS
***z-adsense-center.shtml***
Go to a list of all table tennis club details added by my visitors...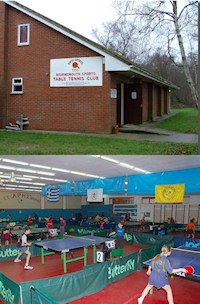 Add details about YOUR club here