Generation 2 Table Tennis Club
Submitted by Heather Knight
(Fareham, Hampshire)
Generation 2 Table Tennis Club is in Fareham, Hampshire, England.
We are an ETTA Premier Club Mark Table Tennis Club with 5 UKCC Qualified Coaches. We welcome players of all ages to join our ever growing members.
We train at Neville Lovett School, Fareham, PO14 1JJ every Monday and Friday 7pm - 9.30pm in the Sports Hall.
Please come along or check out our website for further information.
www.gen2tt.com
This page was written and submitted by a visitor to
All About Table Tennis.com
If you wish to contact this table tennis club
please use the details (if any) given above

FIND MORE TABLE TENNIS CLUBS ADDED BY MY VISITORS
***z-adsense-center.shtml***
Go to a list of all table tennis club details added by my visitors...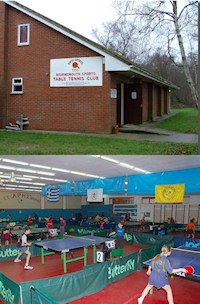 Add details about YOUR club here