Grenville Baker Boys and Girls Club
Submitted by Jerry Mintz
(Long Island, New York, USA)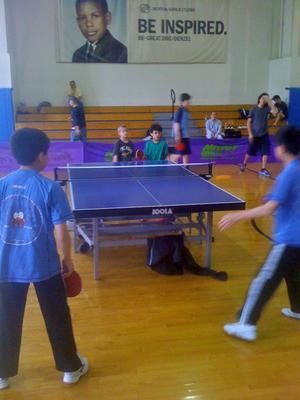 NYS championship at Grenville Baker Boys and Girls Club
Grenville Baker Boys and Girls Club is located in Locust Valley, New York, USA.
Our address is 135 Forest Avenue, Locust Valley, New York, 11560
Our club began in 1947 and is a local affiliate of Boys and Girls Clubs of America - a national organization whose mission is to enable all young people to reach their full potential as productive, caring, responsible citizens.
This club is essentially only for local Boys and Girls Club members so all players must have a student membership in the club.
We have four table tennis tables and we have about 50 players on the challenge ladder.
The table tennis club runs democratically with students electing student supervisors who run it 6 days a week.
Coach Jerry Mintz volunteers twice a week for 2 hours. Some people bring their children so he can teach them.
Jerry Mintz provides coaching of the students.
We host a USATT sanctioned New York State Junior Championship every year, usually in April, May or June. There are age divisions from age 8, but one adult open.
For more information contact:
Jerry Mintz
Email:
[email protected]
Our web site is: www.gbbgc.org
This page was written and submitted by a visitor to
All About Table Tennis.com
If you wish to contact this table tennis club
please use the details (if any) given above

FIND MORE TABLE TENNIS CLUBS ADDED BY MY VISITORS
***z-adsense-center.shtml***
Go to a list of all table tennis club details added by my visitors...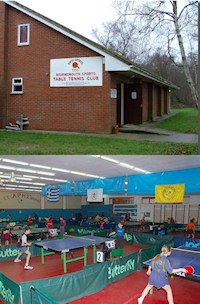 Add details about YOUR club here