Kings Langley Table Tennis Club
Submitted by Mick Hayter
(Kings Langley, England)
Kings Langley Table Tennis Club is mid-way between Hemel Hempstead and Watford, England.
We are part of Kings Langley Cricket Club and our full address is - The Pavilion, Kings Langley Cricket Club, Vicarage Lane, Kings Langley, Hertfordshire. WD4 9HS
We are at the top of Vicarage Lane and the pavilion looks out onto the Common. This is on the right hand side as you come up from Kings Langley High Street and just after the houses finish.
We are a membership only club for league games, but visitors can play by prior arrangement.
The cost is £2.50 per league game plus £20.00 annual membership of the cricket club. Every player must also be an ETTA player member which is an additional cost of £6.00. All figures are as at February 2013.
Our home league matches are usually played on a Thursday evening, starting at 19:30 hours and we have one table tennis table. We have a modern pavilion which has a wooden floor and spot lights over the table. We currently have nine players.
We play in the Hemel Hempstead league which has 3 divisions, each with 8 teams in them.
We have two teams both currently in Division 3 although the 1st team should be promoted to Division 2 where they have been for many seasons.
Every year there is a Handicap Cup Competition between teams from all divisions. In 2009 we won the Cup and also the Plate competition - the latter is for teams who lost their first round matches. There is also a league Open Club Championship which players from all divisions are encouraged to play in.
Kings Langley Table Tennis Club is a friendly club open to both sexes although players should be at least 16 years of age.
For more information contact:
Mark Yelland, Secretary
Email:
[email protected]
This page was written and submitted by a visitor to
All About Table Tennis.com
If you wish to contact this table tennis club
please use the details (if any) given above

FIND MORE TABLE TENNIS CLUBS ADDED BY MY VISITORS
***z-adsense-center.shtml***
Go to a list of all table tennis club details added by my visitors...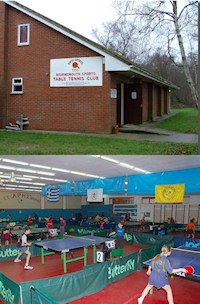 Add details about YOUR club here