Pottsgrove Table Tennis Club
Submitted by Steve
(Pottstown, Pennsylvania, USA)
Pottsgrove Table Tennis Club is in Pottstown, Pennsylvania, USA.
We have 5 tables (2 DHS and 3 Stiga) and meet on Monday and Thursday nights at Pottsgrove Middle School.
We usually have about 10-15 people and the cost is $35 a year or $3 a session.
We have a wide variety of styles and levels of play.
Contact:
[email protected]
This page was written and submitted by a visitor to
All About Table Tennis.com
If you wish to contact this table tennis club
please use the details (if any) given above

FIND MORE TABLE TENNIS CLUBS ADDED BY MY VISITORS
***z-adsense-center.shtml***
Go to a list of all table tennis club details added by my visitors...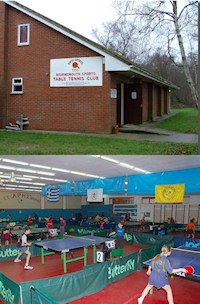 Add details about YOUR club here