Princeton University Table Tennis Club
Submitted by Eric Finkelstein
(Princeton, NJ, USA)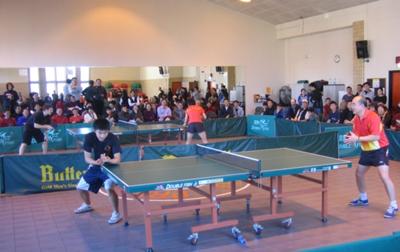 Friendship match with Peking University, Spring '08
Princeton University Table Tennis Club is based in New Jersey, USA and our address is Princeton University, Princeton, New Jersey 08544
PUTTC is a student-run club with 6 tables that meets 3 nights per week in Dillon Gymnasium of Princeton University.
We usually use up to six tables at practices. A table tennis robot (Newgy Robo-Pong 2040) is available as well, and can be used to improve your game. Please note that it will not be used on crowded days.
Club practices are informal and can include open play as well as individual matches and structured training. Once or twice a year there will be a Club or campus tournament with prizes. Throughout the year we may also run a "ladder" which allows all members to compete against one another in a friendly ranking system.
As a member of the National Collegiate Table Tennis Association, we compete against other schools in the region at least twice a year, with the goal of qualifying for the national championships.
We also participate in friendly, informal meets with other schools in order to give all interested students an opportunity to compete.
PUTTC generally hosts one NCTTA meet every season. In recent years the Club also ran three of its own Open tournaments, and hosted the 2005 and 2006 Garden State Open.
The Club may be able to offer free coaching to students. In order to be eligible for coaching, you must be a member of the Club, and must show up to practice at least on a semi-regular basis.
Website: www.princeton.edu/~puttc/
This page was written and submitted by a visitor to
All About Table Tennis.com
If you wish to contact this table tennis club
please use the details (if any) given above

FIND MORE TABLE TENNIS CLUBS ADDED BY MY VISITORS
***z-adsense-center.shtml***
Go to a list of all table tennis club details added by my visitors...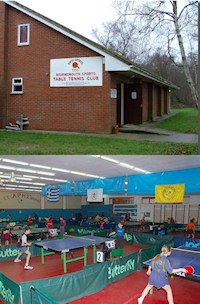 Add details about YOUR club here