Salem Table Tennis Club
Submitted by Bob Mahler
(Salem, Oregon USA)
Salem Table Tennis Club
We are located at 2615 Portland Rd., NE, Salem, Oregon USA.
The Salem Table Tennis Club is the original Salem Community Club.
We try hard to provide our community with the best playing venue.
We have a wonderful Coach and Table Tennis Robots.
It's a great venue with air conditioning, wood floors, snack bar & friendly players!
All skill levels & visitors welcome. $1.00 & $2.00 per visit. Pay to play.
We are open:
Tuesday -- 6:30 pm to 9:00 pm
Thursday -- 6:30 pm to 9:00 pm
Saturday -- 1:00 pm to 5:00 pm
Our web site is www.salemtabletennis.com
This page was written and submitted by a visitor to
All About Table Tennis.com
If you wish to contact this table tennis club
please use the details (if any) given above

FIND MORE TABLE TENNIS CLUBS ADDED BY MY VISITORS
***z-adsense-center.shtml***
Go to a list of all table tennis club details added by my visitors...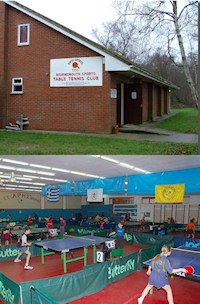 Add details about YOUR club here