San Francisco Chinatown Table Tennis Club (SFCTTC)
Submitted by Lewis Loyi Wei
(San Francisco, California, USA)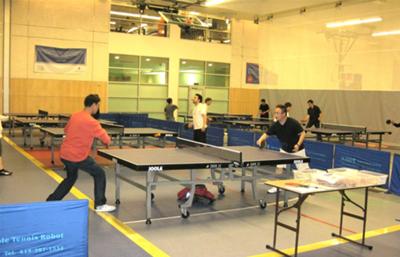 Round Robin at Salvation Army KROC Center
Our club is in San Francisco, California, USA.
There are 60 members in our club.
Every year we play Northern California Bay Area Team League.
We don't have our own facility so we often play in San Francisco Table Tennis Club which is our club's home court when we play the battf team league.
It is located at 953 De Haro St, San Francisco.
There are 5 ITTF Butterfly tables over there.
SFTTC opens on Monday/Friday from 7:30pm to midnight and Saturday afternoon from 1:30pm to 6:30pm.
Every other Thursday 6:30pm-9pm we play in Salvation Army KROC Center.
KROC Center is located at 240 Turk St., San Francisco.
6-14 Joola SC 3000 tables will be set up in the gym.
In February 2011 we organized club members and non club members to play Spring Festival Round Robin and also Spring Break Round Robin in March.
Starting in April 2011 our three team members (18 players) will play the battf Team League.
In June 2011 our club will play Northern California Chinese American Table Tennis Tournament in Palo Alto.
More than half of our members will play the tournament.
Our club office address is: 685 Geary St. 606, San Francisco, CA, USA.
Contact person:
President of SFCTTC, Lewis Loyi Wei
[email protected]
(c)415-307-9381 or (H)415-776-1590.
This page was written and submitted by a visitor to
All About Table Tennis.com
If you wish to contact this table tennis club
please use the details (if any) given above