Shorewood Table Tennis Club
Submitted by Linda Leaf
(Milwaukee, Wisconsin, USA)
The Shorewood Table Tennis Club is the largest, most active club in Wisconsin, USA.
We play Wednesday and Friday nights in a school gym and have 15 tables.
We offer coaching on Friday nights on a walk in basis and league play is on Wednesday nights, however, there are still tables available for open play.
Members and non members ($5 to play) are welcome.
Shorewood Table Tennis Club is a non profit, 501(c)(3) organization.
We also sponsor the 4 Star Badger Open every year on the third weekend in September. It is one of the largest tournaments in the US.
For dates and times and location and any other information, go to our web site: www.shorewoodttc.org
This page was written and submitted by a visitor to
All About Table Tennis.com
If you wish to contact this table tennis club
please use the details (if any) given above

FIND MORE TABLE TENNIS CLUBS ADDED BY MY VISITORS
***z-adsense-center.shtml***
Go to a list of all table tennis club details added by my visitors...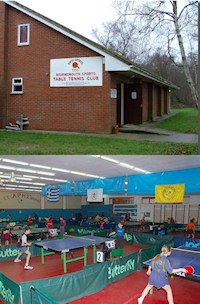 Add details about YOUR club here