Southern Utah Table Tennis Club
Submitted by Dean Aspenberg
(Ivins, Utah)
Southern Utah Table Tennis Club is located in Ivins, Utah, USA.

We play in the recreation building at Unity Park in Ivins, Utah. The building is located immediately behind the tennis courts. The address of the park is: 200 west, 400 south, Ivins, Utah 84738

We welcome visitors of all skill levels, but you must be 18 years or older to play and must sign a liability waiver.

Club members must pay a $3.00 fee and visitors must pay a $5.00 fee.

We are open Saturdays from 9:00 am until 1:00 pm.

We have 4 tables.

We play in a lean heated/air conditioned build with high ceilings and excellent lighting.

There are currently 14 members, but we also have visitors who come most weeks.

There are no leagues or competitions. We have open play. Winner keeps the table. Others challenge in. Coaching is not available.

This is a clean, well lit location to get together with others who enjoy playing table tennis.

There was nowhere to play table tennis in the area. The club president who moved here from the Pacific northwest contacted the City of Ivins to see if we could use the recreation building at the park. They agreed and the club was formed.



Contact: Dan Brown Club President

Telephone: 425-830-6239

No website is available, but we do have information on Facebook.
Just search for the Southern Utah Table Tennis Club.




This page was written and submitted by a visitor to
All About Table Tennis.com
If you wish to contact this table tennis club
please use the details (if any) given above

FIND MORE TABLE TENNIS CLUBS ADDED BY MY VISITORS
***z-adsense-center.shtml***
Go to a list of all table tennis club details added by my visitors...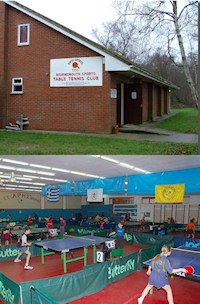 Add details about YOUR club here