St. Luke's Table Tennis Club
St. Luke's Table Tennis Club is a small club in Slyne, on the outskirts of Lancaster, England.
We have 4 tables in St. Luke's Church Hall, Shady Lane, Slyne with Hest, Lancaster, Lancashire, England. LA2 6JG.
We have a busy open play session from 5.30pm till 6.45pm on a Monday evening. This is open to visitors and members and a Ladies hour from 5.45pm till 6.45pm on a Tuesday.
Visitors are very welcome to this small group of improving players. £1 per session.
We also run a junior school session on a Monday from 4.30pm till 5.30pm.
We run 4 teams in the local league - two in the premier and two in the 2nd division.
Matches are played on a Monday and Tuesday evening. A and B play on a Tuesday, whilst the C and D play their matches on a Monday evening.
We are always on the look out for quality players to play in our teams.
The league website is www.lancastertt.com
We have 2 junior school teams playing in the Bay League.
Coaching is available at the sessions mentioned and extra sessions can be booked through the coach Martin Wakelin, ETTA Level 2. The extra sessions are charged at a reasonable rate.
Any enquiries should be made through:
Martin Wakelin
Telephone: 07740 933463
Email:
[email protected]
We look forward to seeing you.
This page was written and submitted by a visitor to
All About Table Tennis.com
If you wish to contact this table tennis club
please use the details (if any) given above

FIND MORE TABLE TENNIS CLUBS ADDED BY MY VISITORS
***z-adsense-center.shtml***
Go to a list of all table tennis club details added by my visitors...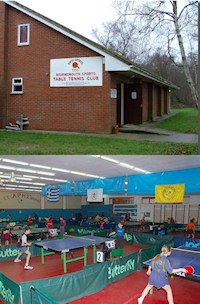 Add details about YOUR club here