Top Spin Table Tennis Centre
Submitted by Elena Shkrab
(Toronto, Canada)
Top Spin Table Tennis Center is located in Toronto, Canada.
Our address is 106 Martin Ross Ave, Toronto, ON, M3J 2L4
Affiliated member of Ontario Table Tennis Association offers Programs, Professional Coaching and Events:
Recreational/Professional Table Tennis (Ping-Pong) in Toronto/GTA
Classes for Children and Adults
Tournaments and Leagues
Corporate Events
Corporate Leagues
Private Lessons
Equipment Orders
Top Spin Table Tennis Center is now a full time Table Tennis Centre.
Completely renovated with brand new International Table Tennis Federation approved rubber flooring, exceptional lighting and the highest quality professional level table tennis equipment available, we can meet the needs of players of all ages and levels, from those who play for recreation to high professional level players.
Professional coaching is available.
And as a result of hard work, myself as a coach and player Veacheslav Cravchenko achieved a monumental result - Ontario Provincial
Champion.
Canadian Rogers Television choose Top Spin for our tournaments coverage and make a presentation on TV Sport Channels: Master Series Circuit and Children/Youth tournaments were presented on TV.
See www.topspintoronto.com/content/masters-series-circuit
For further information contact:
Name: Elena Shkrab (Founder/Head Coach)
Telephone: (416) 477-6875
E-mail:
[email protected]
Web site: www.topspintoronto.com
This page was written and submitted by a visitor to
All About Table Tennis.com
If you wish to contact this table tennis club
please use the details (if any) given above

FIND MORE TABLE TENNIS CLUBS ADDED BY MY VISITORS
***z-adsense-center.shtml***
Go to a list of all table tennis club details added by my visitors...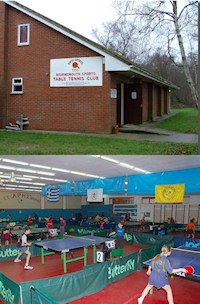 Add details about YOUR club here