Top Spin Table Tennis Club
Submitted by Zac Harvey
(Manchester, England)
Top Spin Table Tennis Club is a newly formed table tennis club in Stretford, Manchester, UK.
We are looking for new players to come and join us regardless of skill or age.
Visitors are welcome to come along and spectate but we can't promise we won't convince you to join in the fun!
Your first time will be FREE.
Following that the price on the night is £4.
There's no membership or advance payment - just turn up on the night, pay and play!
All equipment is provided but you are free to bring your own.
The club is very social and we have a laid back attitude.
Although we currently do not compete we are hoping to gain entry to local/national tournaments in the future.
A club website is currently under construction and will hopefully be up and running soon, along with a forum.
The venue is in Stretford, Manchester, UK and is easily accessible from most of Manchester and surrounding areas via Metrolink/Bus routes and the M60 ring road.
For further information on dates/times/location, contact Zac Harvey.
Email:
[email protected]
This page was written and submitted by a visitor to
All About Table Tennis.com
If you wish to contact this table tennis club
please use the details (if any) given above

FIND MORE TABLE TENNIS CLUBS ADDED BY MY VISITORS
***z-adsense-center.shtml***
Go to a list of all table tennis club details added by my visitors...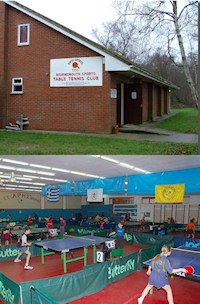 Add details about YOUR club here