West Somerset Table Tennis Association
Submitted by Barbara Parker
(Minehead, Somerset)
West Somerset Table Tennis Association
The West Somerset Table Tennis Association has been going for over 25 years and is in West Somerset, England.
My name is Barbara Parker and I am Secretary of the West Somerset Table Tennis Association.
We joined the ETTA this year and currently have a league consisting of two divisions with 8 teams in each - one of the teams in the second division are juniors.
On a Wednesday evening we have a venue called the Hobby Horse where anyone can come along and play - any standard and age welcome.
We have a web site - which is www.westsomersettabletennisassociation.co.uk
We have an ETTA coach - Martyn Summerell - who coaches at The Hobby Horse.
I am taking the Umpire course at the moment.
Barbara Parker
Update:
April 2011
West Somerset Table Tennis Association has moved their venue to The Lawns, Townsend Road, Minehead.
This page was written and submitted by a visitor to
All About Table Tennis.com
If you wish to contact this table tennis club
please use the details (if any) given above

FIND MORE TABLE TENNIS CLUBS ADDED BY MY VISITORS
***z-adsense-center.shtml***
Go to a list of all table tennis club details added by my visitors...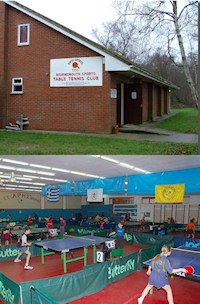 Add details about YOUR club here