Biba Golic
Biljana Golic - known affectionately as Biba Golic.
Is she the world's most attractive woman table tennis player?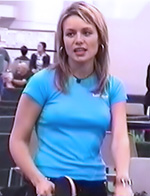 Biljana Golic - affectionately known as Biba Golic.
Yugoslavian by birth, but now living in the USA, Biba is best known for her film star looks and sexy table tennis outfits - qualities not usually associated with the world of table tennis!
Her most recent World ranking was number 329 (June 2012), but as she has not played in any world ranking events, her ranking has now lapsed.
Biba may not be one of the best players in the world, but she's certainly one of the most in-demand players in the USA.
So let's take a look at ...
How It All Started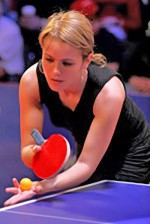 Growing up in Yugoslavia, Biba was taught to play table tennis by her father.
By the age of 18, she was a two-time national champion and had competed throughout Europe and Asia.
After finishing school, Biba played professionally for a prestigious team in her hometown of Coka, Serbia.
She then went on to play for the national team, although the war in Yugoslavia stopped her from competing at international level for two years - until Serbia became a recognized country.
However, she did represent Yugoslavia in the World Championships in 1999, 2000, 2001 and 2003, although she never progressed beyond the early rounds of the competition.
Moving On
Then she had an invitation to play in Germany's Bundesliga - the most competitive table tennis league in Europe. She played for a team near Stuttgart, whilst also travelling with the Serbian national team.
But with a strong desire to study and to learn English, she jumped at an opportunity to go to the USA in 2003.
Biba landed a full scholarship at Texas Wesleyan University which boasts the most successful collegiate table-tennis team in the United States.
And then came a partnership between ...
Killerspin and Biba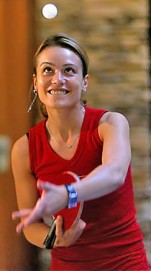 But after just one year, her good looks and undoubted table tennis talents, brought her to the attention of Robert Blackwell Jr, a self-described "serial entrepreneur" who, in 2001, had launched the Chicago-based Killerspin, a table-tennis manufacturing and promotion company.
So she moved to Chicago.
Although Biba is now one of the top women table tennis players in the USA ... and has a string of titles to her name ... it's for her film star looks that she's most widely known.
With her sponsor Killerspin producing thousands of hours of table-tennis programming which is shown on ESPN2, she's the marketing face of her sponsor and she helps promote table tennis for Killerspin.

MORE PAGES ABOUT
THE BEST TABLE TENNIS PLAYERS
For more information about the best table tennis players, take a look at my other articles...
Table tennis players
Table tennis player profiles
Table tennis player interviews
World Rankings