Professional Table Tennis Players
Vladimir Samsonov
A profile of Vladimir Samsonov - professional table tennis player.
One of the world's top table tennis players...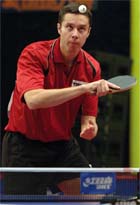 by courtesy of the ITTF
Vladimir Samsonov was in the top ten of the world rankings for more than ten years before slipping just outside the top ten in December 2011, and he has been one of the few players who could seriously challenge the Chinese.
And in November 2013 he once again re-entered the top ten and has remained around that position since that time.
His highest achievement was reaching the World Championship men's singles final in 1997 in Manchester, England.
Unfortunately, he was up against a legend of the game - Jan-Ove Waldner - and he was unable to claim the prestigious world title.
However, although he was unsuccessful on that occasion, he's won many other titles during his long and illustrious professional table tennis career.
Read my downloadable books for the best information
But how did it all begin?
In the beginning...
Born on 17 April 1976 in Minsk (in the former Soviet Union but now the capital of Belarus), Vladimir Samsonov started playing table tennis at the age of six.
With regular coaching and practise, it wasn't long before he came to the attention of his national federation.
By the age of 16 he was training in Germany and at 17 he moved to Dusseldorf for six years before later moving on to Belgium.
So what were his early successes?
Early European success
By the age of 11 he was already a member of the national cadet team which won the team event title at the European Youth (Cadet) Championships in 1987.
At the following year's event he won the boy's doubles and mixed doubles titles, whilst in 1989 at the age of 13 he triumphed in the boy's singles as well as retaining his mixed doubles title.
1990 saw him take three titles ... the boy's doubles, the mixed doubles and the team event, to round off a fabulous cadet career.
Moving up to the juniors in 1991, Vladimir Samsonov again showed his prowess, being runner-up in both the boy's doubles and the mixed doubles events.
And by the time he reached the 1992 European Youth (Junior) Championships in Czechoslovakia, Vladimir Samsonov once again claimed three titles ... this time triumphing in the boy's singles, the mixed doubles and the team event.
In his final year as a junior, at the 1993 Championships in Slovenia, he once again took the boy's singles and boy's doubles titles, whilst losing in the final of the mixed doubles.
Even a move up to the seniors didn't halt his progress...
More European titles
Following his move up to the senior ranks, Vladimir Samsonov continued to progress, and he quickly became one of the best professional table tennis players in Europe ... and the World.
The European Championships of 1994 and 1996 saw him reach the last 16 of the men's singles ... and in 1998 he took the biennial title for the first time.
He has won the European Championships men's singles title a further two times, in 2003 and 2005, whilst losing in the 2007 and 2008 finals to Germany's Timo Boll and in 2013 to Germany's Dimitrij Ovtcharov.
And his success also meant he qualified for other prestigious events too...
Euro Top 12 / Top 16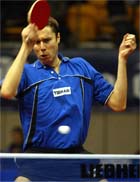 by courtesy of the ITTF
The Euro Top 12 (Top 16 from 2015 onwards) ... an event which started in 1971 ... is for the top 12 / 16 ranked European players (or invitees).
And so it was that Vladimir Samsonov's success qualified him to take part almost every year from 1995 onwards.
Indeed, Vladimir Samsonov has an impressive record in this event.
He won the title in 1998, 1999, 2001 and 2007, whilst being a losing finalist in 1997, 2002, 2003, 2005, 2008, 2009, 2010, 2011 and 2019.
But professional table tennis players are in demand throughout the world, and Vladimir Samsonov is no exception...
The world stage
With the ITTF Pro-Tour (renamed the ITTF World Tour in 2012) starting in 1996, Vladimir Samsonov was joining the world stage at just the right time.
Indeed, his list of Pro-Tour titles is impressive. He's already won the men's singles titles at the following events...
1996 - Italian Open
1997 - Swedish Open
1998 - Croatian Open
1999 - Croatian Open and Japanese Open
2000 - Croatian Open
2001 - German Open
2003 - Qatar Open
2004 - Brazilian Open
2005 - Croatian Open, Russian Open and German Open
2006 - Croatian Open and Chile Open
2007 - Chinese Taipei Open
2008 - Slovenian Open, Kuwait Open and Belarus Open
2009 - Morocco Open
2010 - Morocco Open, Korean Open, Polish Open
2011 - Morocco Open
2014 - Belarus Open and Flanders (Belgium) Open
2015 - Qatar Open
2017 - Australian Open
Additionally, he triumphed at the prestigious end of season ITTF Pro-Tour Grand Finals in 1997 in Hong Kong, after being runner-up in the inaugural event in China in 1996.
Naturally, success at the top level also brings invitations to other events...
The World Cup
The table tennis World Cup is for 20 selected players only.
With three invited players and 17 others qualifying through Continental Cups or equivalent types of tournaments, the World Cup is indeed for a very select group of players.
Vladimir Samsonov has been part of this select band of professional table tennis players since 1996, and he won the title in 1999, 2001 and 2009, whilst he was beaten in the final in 2013 by Xu Xin of China.
Unfulfilled dream
Unfortunately, despite all his success - including being ranked as the number one player in the world in 1998 - Vladimir Samsonov has yet to achieve his ultimate dream ... winning World and Olympic titles.
In the World Championships, he's managed to reach the men's singles quarter finals on three separate occasions (1995, 2001 and 2007).
And on the one occasion that he made it all the way to the final (1997), he was unfortunate to meet probably the greatest player of all time - Jan-Ove Waldner - and he promptly lost in straight sets.
And in the men's doubles he reached the final in 1995 with Zoran Primorac of Croatia, but they were beaten by Lu Lin and Wang Tao of China.
The Olympic Games also remains a lifetime dream.
Having reached the quarter final stage in both the 1996 and 2000 Olympics, he could only manage a last 16 place in 2004, 2008 and 2012.
However, he still yearns for more...
"The first two, I played quite well," he said. "I hope I learned something. It's a different game, you have much more stress."

"It would mean a lot to win a gold medal. I was No. 1 in the world, but winning Olympic gold is still my dream. That would be really really special."
In 2016 he reached the semi-finals, but lost to China's Zhang Jike.
Today...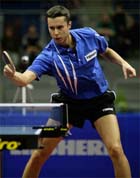 by courtesy of the ITTF
Sponsored by Tibhar, Vladimir Samsonov currently plays professional table tennis for russian side GAZPROM Fakel Orenburg.
They were runners-up in the European Champions League in 2010/2011 and winners in 2011/2012 and 2012/2013 - and he uses a Tibhar Samsonov Alpha blade with Tibhar Nimbus VIP rubbers.
He speaks four languages - Russian, English, German and Serbian - is married to Natasha and has two children, Victor and Ivann.
MORE PAGES ABOUT
THE BEST TABLE TENNIS PLAYERS
For more information about the best table tennis players, take a look at my other articles...
Table tennis players
Table tennis player profiles
Table tennis player interviews
World Rankings