ITTF World Tour
The ITTF have revamped the ITTF World Tour with higher prize money for all players and improved organisation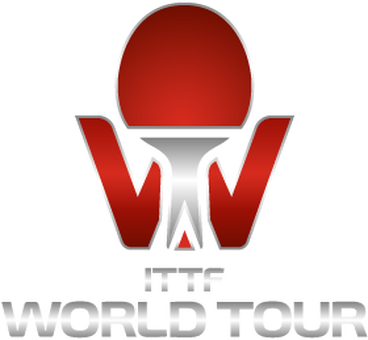 In 1996 the International Table Tennis Federation (ITTF) launched a brand new premier competition - The ITTF Pro Tour.
And in 2012, after 15 years of solid success, they took it to the next level and re-named it the ITTF World Tour.
And then in its 20th year, the ITTF announced that with effect from 2017 the ITTF World Tour would have a new logo, new branding and a new structure to better promote table tennis globally.
So what was said at the unveiling in August 2016?
New Partners and New Conditions for 2017 World Tour
On the announcement, ITTF Marketing Director Steve Dainton said...
"In 2016, we worked hard to look at ways to push the World Tour product forward, with new partners and new conditions.

The desire to host events has dramatically increased and we are so pleased to see conditions such as prize money increasing as well.

We will now push forward to ensure events can grow both in terms of popularity and commercially so that over time we can showcase international table tennis more regularly throughout the year."
ITTF Announced 12 Host Cities for the 2017 World Tour
The ITTF also announced that from 2017 the World Tour would be split into two tiers, with six ITTF World Tour Platinum events, which is the new top tier of the World Tour, and six regular ITTF World Tour events.
And due to an unprecedented number of bids wanting to be part of this revamped ITTF World Tour, the six ITTF World Tour Platinum events had higher prize money, and a higher level of organisation, which ensured the attendance of the world's best players, resulting in more international exposure for the hosts.
The six cities that won the right to host a 2017 ITTF World Tour Platinum event were...
Doha, Qatar: 23-26 February 2017
Tokyo, Japan: 16-18 June 2017
Chengdu, China: 22-25 June 2017
Gold Coast, Australia: 29 June–2 July 2017
Linz, Austria: 1-3 September 2017
Magdeburg, Germany: 10-12 November 2017
And the regular ITTF World Tour events were...
Budapest, Hungary: 19-22 January 2017
New Delhi, India: 16-19 February 2017
Incheon, South Korea: 20-23 April 2017
Olomouc, Czech Republic: 24-27 August 2017
Panagyurishte, Bulgaria: 7-10 September 2017
Stockholm, Sweden: 16-19 November 2017
Australia and Austria moved up to the top World Tour tier for the first time, after successfully hosting regular lower-tiered World Tour events.
And India joined the ITTF World Tour for the first time, with New Delhi hosting the breakthrough event in February 2017.
The 12 events all offered World Tour Standings points, which were used to determine the top 16 players that qualified for the World Tour Grand Finals, which was held from 14-17 December 2017 in Astana, Kazakhstan.
Subsequent years have also followed this new format.
So how does the ITTF World Tour now work?
Points mean prizes
12 prestigious events all offer World Tour Standings points which are used to determine the top 16 players that qualify for the lucrative World Tour Grand Finals.
So let's take a look at...
The Format
Each World Tour tournament holds events for...
Men's singles
Women's singles
Men's doubles
Women's doubles
Mixed doubles
The main draw is limited to 32 players for singles and 16 pairs for doubles.
In the Men's and Women's singles all matches are played best of 7 games in all stages of the competition, whilst in the doubles, matches are played best of 5 games in all stages of the competition.
The events are played over 4 days whilst the qualification events are played over a minimum of 2 days.
You can get all the details of the ITTF World Tour events and the Grand Finals here.
MORE PAGES ABOUT
THE ITTF WORLD TOUR
For more information about the ITTF World Tour, take a look at my other articles...
ITTF World Tour
Click here to show/hide all pages about the ITTF World Tour

ITTF Pro Tour (1996-2011)

ITTF World Tour (2012-2016)

ITTF World Tour (2017 onwards)
Other Major Tournaments
Olympic Games
Click here to show/hide all pages about the Olympic Games

2004 Olympic Games - Athens, Greece

2008 Olympic Games - Beijing, China

2012 Olympic Games - London, England

2016 Olympic Games - Rio de Janeiro, Brazil
World Championships
Click here to show/hide all pages about the World Championships

2009 World Championships - Yokohama, Japan

2010 World Team Championships - Moscow, Russia

2011 World Championships - Rotterdam, Netherlands

2012 World Team Championships - Dortmund, Germany

2013 World Championships - Paris, France

2014 World Team Championships - Tokyo, Japan

2015 World Championships - Suzhou, China

2016 World Team Championships - Kuala Lumpur, Malaysia

2017 World Championships - Dusseldorf, Germany

2018 World Team Championships - Halmstad, Sweden

2019 World Championships - Budapest, Hungary
World Cup
Click here to show/hide all pages about the World Cup
European Championships
Click here to show/hide all pages about the European Championships

2008 European Championships - St Petersburg, Russia

2009 European Championships - Stuttgart, Germany

2010 European Championships - Ostrava, Czech Republic

2011 European Championships - Gdansk/Sopot, Poland

2012 European Championships - Herning, Denmark

2013 European Championships - Schwechat, Austria

2014 European Championships - Lisbon, Portugal

2015 European Championships - Russia, Ekaterinburg

2016 European Championships - Budapest, Hungary

2017 European Championships - Luxembourg, Luxembourg

2018 European Championships - Alicante, Spain
Commonwealth Games
Click here to show/hide all pages about the Commonwealth Games
Table Tennis Events Calendars
Click here to show/hide all pages about Table Tennis Events Calendars
Table Tennis Officials
World Rankings