In the run up to the 2012 Olympics in London, Royal Mail issued three sets of postage stamps, including one for table tennis.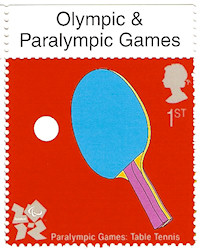 On 27 July 2010, Royal Mail released their second set (of three) commemorative stamps for the 2012 Olympic Games in London.
This second set included a stamp to promote table tennis which is both an Olympic and Paralympic sport.
Designed by Michael Craig Martin it shows a table tennis bat and ball together with the Paralympic Games logo.
Royal Mail announced that they were commemorating London's hosting of the 2012 Olympic & Paralympic Games by issuing three sets of stamps in the run up to the Games.
They said ...
"In the countdown to the London 2012 Olympic Games, Royal Mail is issuing 30 stamps for the 30th Olympiad and London 2012 Paralympic Games.

Each stamp will champion an Olympic or Paralympic sport and they will be issued in three sets of ten stamps in 2009, 2010 and 2011, counting down to the 2012 Olympic Games.

In all, 29 different sports are played across the Olympic Games and Paralympic Games so there will be one stamp design for each sport - with the exception of athletics which will be presented across two stamps as 'Athletics: track' and 'Athletics: field'.
The 30 sporting areas were divided into three sets of ten stamps to ensure a balance of Olympic and Paralympic sports for each year of issue.
Each stamp had the London 2012 Olympic Games or Paralympic Games logo.
Royal Mail spokesman Philip Parker said:
"This series of stamps is creating a fascinating montage of the sports which make the Olympics and Paralympics one of the greatest events on the planet.

"In addition to appearing on millions of letters, the stamps also form part of a wonderful sporting collection to celebrate the 30th Olympiad."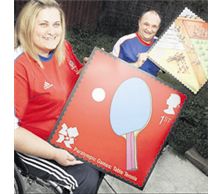 Husband and wife, Scott and Claire Robertson, disabled table tennis players from Saltney, were chosen by Royal Mail to promote their London 2012 Olympic and Paralympic stamps.
Following their issue on 27 July 2010 to mark the two-year countdown to the opening ceremony of the 2012 London Olympic Games, Claire and Scott, both aged 34, said they can't wait for the Games to begin.
Claire said:
"We both love playing table tennis and we have been pretty much all over the world competing.

We are both hoping to qualify for the Paralympics in London in 2012 and we are practising hard for the World Championships in October in Korea."
Claire used to be a cross-country champion until she suffered spinal injuries following a road traffic accident 20 years ago.
She took up table tennis and met Scott at a competition in Australia in 1993.
Other stamps in this second set, dubbed On Track for 2012, feature the Olympic sports of Boxing, Cycling, Football, Hockey, Modern Pentathlon, Shooting and Taekwondo, and the Paralympic Sports of Goalball and Rowing.