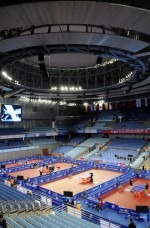 The People's Republic of China hosted the Olympic Games in Beijing from the 8 to 24 August 2008.
The table tennis competition started on Wednesday 13 August 2008, and with the home nation expected to take several gold medals, there was a fantastic atmosphere.
A fabulous new state-of-the-art venue, 8km from the Olympic Village, was built at Peking University specifically for this event - so the players had the best possible conditions in which to play.
It had seating for 8,000 spectators - with 6,000 seats being permanent and 2,000 temporary.
Here's the schedule of play for the 2008 Olympics table tennis events...
Beijing is 8 hours ahead of Greenwich Mean Time.
| Date | Session | Event | Round |
| --- | --- | --- | --- |
| Wed 13 Aug 2008 | Morning | Women's Team | One |
| | Morning | Men's Team | One |
| | | | |
| | Afternoon | Women's Team | One |
| | Afternoon | Men's Team | One |
| | | | |
| | Evening | Women's Team | Two |
| | Evening | Men's Team | Two |
| | | | |
| Thu 14 Aug 2008 | Morning | Women's Team | Two |
| | Morning | Men's Team | Two |
| | | | |
| | Afternoon | Women's Team | Three |
| | Afternoon | Men's Team | Three |
| | | | |
| | Evening | Women's Team | Three |
| | Evening | Men's Team | Three |
| | | | |
| Fri 15 Aug 2008 | Morning | Women's Team | Bronze play-off |
| | Morning | Men's Team | Bronze play-off |
| | | | |
| | Afternoon | Women's Team | Semi-final 1 |
| | | | |
| | Evening | Women's Team | Semi-final 2 |
| | | | |
| Sat 16 Aug 2008 | Morning | Women's Team | Bronze play-off |
| | | | |
| | Afternoon | Men's Team | Semi-final 1 |
| | | | |
| | Evening | Men's Team | Semi-final 2 |
| | | | |
| Sun 17 Aug 2008 | Morning | Men's Team | Bronze play-off |
| | | | |
| | Afternoon | Women's Team | Bronze medal |
| | | | |
| | Evening | Women's Team | Final |
| | | | |
| Mon 18 Aug 2008 | Morning | Women's Singles | Preliminary |
| | | | |
| | Afternoon | Men's Team | Bronze medal |
| | | | |
| | Evening | Men's Team | Final |
| | | | |
| Tue 19 Aug 2008 | Morning | Men's Singles | Preliminary |
| | | | |
| | Afternoon | Women's Singles | One |
| | Afternoon | Men's Singles | One |
| | | | |
| | Evening | Women's Singles | One |
| | Evening | Men's Singles | One and Two |
| | | | |
| Wed 20 Aug 2008 | Morning | Women's Singles | Two |
| | Morning | Men's Singles | Two |
| | | | |
| | Afternoon | Women's Singles | Two and Three |
| | Afternoon | Men's Singles | Two |
| | | | |
| | Evening | Women's Singles | Three |
| | Evening | Men's Singles | Two |
| | | | |
| Thu 21 Aug 2008 | Morning | Women's Singles | Four |
| | | | |
| | Afternoon | Men's Singles | Three |
| | | | |
| | Evening | Women's Singles | Quarter Finals |
| | Evening | Men's Singles | Four |
| | | | |
| Fri 22 Aug 2008 | Morning | Women's Singles | Semi Finals |
| | | | |
| | Afternoon | Men's Singles | Quarter Finals |
| | | | |
| | Evening | Women's Singles | Bronze medal |
| | Evening | Women's Singles | Final |
| | | | |
| Sat 23 Aug 2008 | Morning | Men's Singles | Semi Finals |
| | | | |
| | Evening | Men's Singles | Bronze medal |
| | Evening | Men's Singles | Final |
| | | | |