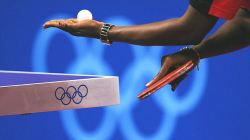 The draw for the women's team event at the 2012 Olympic Games table tennis event took place on Wednesday 25 July 2012.
There were 16 teams in the team event and a traditional knockout format was used. The losing teams in the semi-finals played-off for the Bronze medal.
Teams consisted of three players each. Each team match is called a "contest" and was the best of three out of five matches.
A contest consists of two singles, followed by one doubles, followed, if necessary, by one or two more singles until one team wins three matches.
A team may play with only two players if the third player is injured, ill or disqualified - however, they forfeit the two matches which were due to be played by that third player.
If both teams only have two players, the contest will be the best of two out of three matches. The order of play will be a singles match, followed by a doubles match, followed, if necessary by a final singles match.
You can see how they qualified for the womens team event here and see the womens team event seedings here.
Women's Singles Event results here
Men's Singles Event results here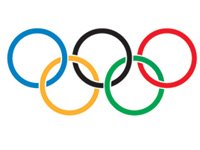 First Round
Friday 3 August 2012
(1) China
(10) Spain
1
2
3
4
5
Result
LI Xiaoxia
SHEN Yanfei
11-4
11-7
14-12
1-0
GUO Yue
RAMIREZ Sara
11-9
8-11
11-5
11-8
1-0
DING Ning
LI Xiaoxia
DVORAK Galia
RAMIREZ Sara
11-7
11-5
11-8
1-0
FINAL RESULT
3-0
(7) Netherlands
(16) Egypt
1
2
3
4
5
Result
LI Jiao
EL-DAWLATLY Nadeen
11-6
11-6
11-4
1-0
LI Jie
MESHREF Dina
11-5
11-5
11-2
1-0
TIMINA Elena
LI Jie
MAGDY Raghd
MESHREF Dina
11-4
11-7
11-2
1-0
FINAL RESULT
3-0
^ Top of page ^
(5) Hong Kong China
(9) Austria
1
2
3
4
5
Result
TIE Yana
LIU Jia
7-11
11-7
4-11
11-6
15-13
1-0
JIANG Huajun
SOLJA Amelie
4-11
8-11
11-13
0-1
LEE Ho Ching
TIE Yana
LI Qiangbing
SOLJA Amelie
11-9
14-12
11-2
1-0
JIANG Huajun
LI Qiangbing
11-6
11-8
11-6
1-0
FINAL RESULT
3-1
(4) South Korea
(15) Brazil
1
2
3
4
5
Result
KIM Kyungah
KUMAHARA Caroline
11-2
11-3
11-6
1-0
SEOK Hajung
GUI Lin
11-8
11-5
11-8
1-0
KIM Kyungah
PARK Miyoung
SILVA Ligia
GUI Lin
11-5
11-5
11-6
1-0
FINAL RESULT
3-0
^ Top of page ^
(3) Singapore
(11) Poland
1
2
3
4
5
Result
FENG Tianwei
LI Qian
8-11
15-13
11-9
9-11
8-11
0-1
WANG Yuegu
PARTYKA Natalia
11-6
11-9
11-6
1-0
LI Jiawei
WANG Yuegu
GRZYBOWSKA Katarzyna
PARTYKA Natalia
11-7
11-6
11-9
1-0
FENG Tianwei
GRZYBOWSKA Katarzyna
11-8
11-6
11-6
1-0
FINAL RESULT
3-1
(8) North Korea
(13) Great Britain
1
2
3
4
5
Result
RI Myong Sun
PARKER Joanna
11-8
8-11
11-8
11-4
1-0
KIM Jong
LIU Na
11-8
11-9
11-7
1-0
RI Mi Gyong
KIM Jong
SIBLEY Kelly
PARKER Joanna
11-2
11-7
11-3
1-0
FINAL RESULT
3-0
^ Top of page ^
(6) Germany
(14) Australia
1
2
3
4
5
Result
IVANCAN Irene
MIAO Miao
7-11
15-13
11-5
11-7
1-0
WU Jiaduo
LAY Jian Fang
11-7
11-7
11-7
1-0
SILBEREISEN Kristin
WU Jiaduo
TAN Vivian
MIAO Miao
11-6
9-11
12-10
12-10
1-0
FINAL RESULT
3-0
(2) Japan
(12) USA
1
2
3
4
5
Result
FUKUHARA Ai
HSING Ariel
11-4
11-7
11-7
1-0
HIRANO Sayaka
ZHANG Lily
11-9
11-5
11-3
1-0
ISHIKAWA Kasumi
FUKUHARA Ai
WU Erica
ZHANG Lily
11-7
11-7
11-1
1-0
FINAL RESULT
3-0
^ Top of page ^
Quarter Finals
Saturday 4 August 2012
(1) China
(7) Netherlands
1
2
3
4
5
Result
GUO Yue
LI Jiao
11-9
11-7
14-12
1-0
DING Ning
LI Jie
11-8
11-9
9-11
11-7
1-0
LI Xiaoxia
GUO Yue
TIMINA Elena
LI Jie
11-4
11-8
11-9
1-0
FINAL RESULT
3-0
(4) South Korea
(5) Hong Kong China
1
2
3
4
5
Result
DANG Yeseo
TIE Yana
14-12
11-9
11-4
1-0
KIM Kyungah
JIANG Huajun
11-4
4-11
11-3
10-12
12-10
1-0
SEOK Hajung
DANG Yeseo
LEE Ho Ching
TIE Yana
11-9
11-6
12-14
9-11
11-9
1-0
FINAL RESULT
3-0
^ Top of page ^
(3) Singapore
(8) North Korea
1
2
3
4
5
Result
WANG Yuegu
RI Myong Sun
11-7
11-9
5-11
11-5
1-0
FENG Tianwei
KIM Jong
9-11
11-4
11-9
11-4
1-0
LI Jiawei
WANG Yuegu
RI Mi Gyong
KIM Jong
4-11
11-7
11-9
11-8
1-0
FINAL RESULT
3-0
(2) Japan
(6) Germany
1
2
3
4
5
Result
ISHIKAWA Kasumi
WU Jiaduo
11-8
8-11
11-7
6-11
13-11
1-0
FUKUHARA Ai
IVANCAN Irene
8-11
11-8
11-8
11-7
1-0
HIRANO Sayaka
FUKUHARA Ai
SILBEREISEN Kristin
WU Jiaduo
11-8
11-5
11-7
1-0
FINAL RESULT
3-0
^ Top of page ^
Semi Finals
Sunday/Monday
5/6 August 2012
(1) China
(4) South Korea
1
2
3
4
5
Result
LI Xiaoxia
SEOK Hajung
11-6
11-6
12-10
1-0
DING Ning
KIM Kyungah
11-8
11-7
11-7
1-0
GUO Yue
LI Xiaoxia
DANG Yeseo
SEOK Hajung
11-6
11-5
11-8
1-0
FINAL RESULT
3-0
(2) Japan
(3) Singapore
1
2
3
4
5
Result
FUKUHARA Ai
FENG Tianwei
11-9
11-6
5-11
11-9
1-0
ISHIKAWA Kasumi
WANG Yuegu
11-3
11-6
11-2
1-0
HIRANO Sayaka
ISHIKAWA Kasumi
LI Jiawei
WANG Yuegu
11-3
13-11
11-4
1-0
FINAL RESULT
3-0
^ Top of page ^
Bronze Medal Match
Tuesday 7 August 2012
(3) Singapore
(4) South Korea
1
2
3
4
5
Result
FENG Tianwei
KIM Kyungah
11-9
11-8
4-11
13-11
1-0
LI Jiawei
SEOK Hajung
11-5
11-8
6-11
11-8
1-0
LI Jiawei
WANG Yuegu
DANG Yeseo
SEOK Hajung
11-9
11-6
6-11
11-5
1-0
FINAL RESULT
3-0
^ Top of page ^
Gold Medal Match
Tuesday 7 August 2012
(1) China
(2) Japan
1
2
3
4
5
Result
LI Xiaoxia
FUKUHARA Ai
11-6
9-11
11-2
11-5
1-0
DING Ning
ISHIKAWA Kasumi
11-4
12-10
11-4
1-0
GUO Yue
LI Xiaoxia
HIRANO Sayaka
ISHIKAWA Kasumi
11-6
11-3
9-11
11-5
1-0
FINAL RESULT
3-0
2012 Olympic Games
Women's Team Event
GOLD MEDAL WINNERS
China
(LI Xiaoxia, DING Ning, GUO Yue)
SILVER MEDAL WINNERS
Japan
(FUKUHARA Ai, ISHIKAWA Kasumi, HIRANO Sayaka)
BRONZE MEDAL WINNERS
Singapore
(FENG Tianwei, LI Jiawei, WANG Yuegu)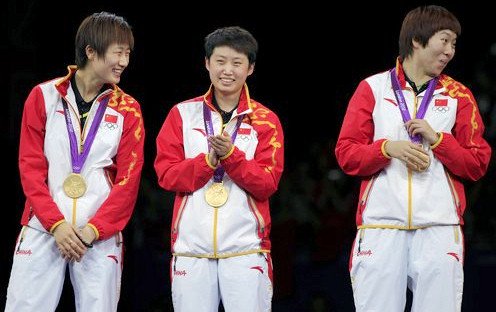 Ding Ning - Guo Yue - Li Xiaoxia