2020 Olympic Games Mascots
The 2020 Olympic Games mascots have been unveiled.
Find out about Miraitowa and Someity here...
The organisers of the Tokyo 2020 Olympic Games and Paralympic Games have unveiled the official Olympic and Paralympic Mascots - Miraitowa and Someity.
The Tokyo 2020 mascots were chosen by elementary school children within Japan as well as from Japanese schools abroad, and they're the first mascots in Olympic and Paralympic Games history to be chosen exclusively by elementary school children.
16,769 schools and 205,755 classes voted and Miraitowa and Someity were unveiled as the official mascots.
The role of the mascots will be to communicate the Olympic and Paralympic spirit and contribute to the excitement of the Games during the Opening and Closing Ceremonies, as well as at Games venues and around town.
Let's take a look at each one ...
Miraitowa - the Tokyo 2020 Olympic Games Mascot
The name Miraitowa is based on the Japanese words "Mirai"(future) and "towa" (eternity) connected together, and was chosen to promote a future full of hope forever, in the hearts of all the people in the world.
The Tokyo 2020 Olympic Games mascot has the same indigo blue ichimatsu-patterns as the Tokyo 2020 Games Emblem on its head and body.
The mascot's personality is derived from a traditional Japanese proverb that means to learn old things well and to acquire new knowledge from them.
The mascot has both an old-fashioned aspect that respects tradition and an innovative aspect that is in tune with cutting-edge information.
It has a strong sense of justice, and is very athletic.
The mascot's special ability is to be able to move anywhere instantly.
And for the Paralympic Games...
Someity - the Tokyo 2020 Paralympic Games Mascot
The name Someity comes from "Someiyoshino", a popular cherry blossom variety, and the phrase "so mighty".
Someity has cherry blossom tactile sensors, and can show enormous mental and physical strength.
The mascot represents Paralympic athletes who overcome obstacles and redefine the boundaries of possibility.
The Tokyo 2020 Paralympic Games mascot is a cool character with cherry blossom tactile sensors and super powers.
It can send and receive telepathy using the cherry blossom antennae on both sides of its face.
It can also fly using its ichimatsu-pattern cloak.
It is usually quiet, but it can demonstrate great power when necessary.
It embodies Paralympic athletes that demonstrate superhuman power.
It has a dignified inner strength and it also loves nature.
It can talk to stones and wind by using its super power, and also is able to move things by just looking at them.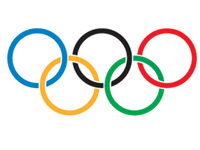 MORE PAGES ABOUT
TABLE TENNIS AT THE OLYMPIC GAMES
For more information about table tennis at the Olympic Games, take a look at my other articles...
Olympic Games
Click here to show/hide all pages about the Olympic Games

2004 Olympic Games - Athens, Greece

2008 Olympic Games - Beijing, China

2012 Olympic Games - London, England

2016 Olympic Games - Rio de Janeiro, Brazil

2020 Olympic Games - Tokyo, Japan
Other Major Tournaments
World Championships
Click here to show/hide all pages about the World Championships

2009 World Championships - Yokohama, Japan

2010 World Team Championships - Moscow, Russia

2011 World Championships - Rotterdam, Netherlands

2012 World Team Championships - Dortmund, Germany

2013 World Championships - Paris, France

2014 World Team Championships - Tokyo, Japan

2015 World Championships - Suzhou, China

2016 World Team Championships - Kuala Lumpur, Malaysia

2017 World Championships - Dusseldorf, Germany

2018 World Team Championships - Halmstad, Sweden

2019 World Championships - Budapest, Hungary
ITTF World Tour
Click here to show/hide all pages about the ITTF World Tour

ITTF Pro Tour (1996-2011)

ITTF World Tour (2012-2016)

ITTF World Tour (2017 onwards)
World Cup
Click here to show/hide all pages about the World Cup
European Championships
Click here to show/hide all pages about the European Championships

2008 European Championships - St Petersburg, Russia

2009 European Championships - Stuttgart, Germany

2010 European Championships - Ostrava, Czech Republic

2011 European Championships - Gdansk/Sopot, Poland

2012 European Championships - Herning, Denmark

2013 European Championships - Schwechat, Austria

2014 European Championships - Lisbon, Portugal

2015 European Championships - Russia, Ekaterinburg

2016 European Championships - Budapest, Hungary

2017 European Championships - Luxembourg, Luxembourg

2018 European Championships - Alicante, Spain
Commonwealth Games
Click here to show/hide all pages about the Commonwealth Games
Table Tennis Events Calendars
Click here to show/hide all pages about Table Tennis Events Calendars
Table Tennis Officials
World Rankings