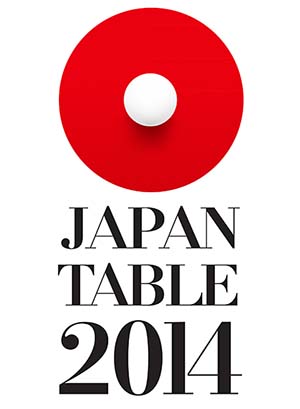 The 2014 World Team Table Tennis Championships took place in Tokyo, Japan from 28 April to 5 May 2014.
You can read all the details about it here, whilst on this page you'll find all the results from the Championship Division.
China were the clear favourite to retain their men's team title and they duly obliged, beating Germany in the final for the third time in a row.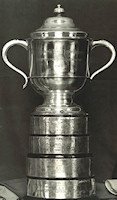 by courtesy
of the ITTF
The men compete for the Swaythling Cup - which was donated in 1926 by Lady Baroness Swaythling, mother of Ivor Montagu, the first Chairman of the ITTF.
The draw took place on Saturday 15 March 2014.
Men's Team Event Results...
Championship Division
Group Stages
Monday/Tuesday/Wednesday/Thursday
28 April - 1 May 2014
Group A - China, Austria, Russia, Brazil, Poland, Serbia
| Winner | Result | Loser |
| --- | --- | --- |
| China | 3-0 | Brazil |
| Austria | 3-1 | Serbia |
| Poland | 3-0 | Russia |
| | | |
| China | 3-0 | Poland |
| Austria | 3-0 | Russia |
| Serbia | 3-2 | Brazil |
| | | |
| China | 3-0 | Russia |
| Austria | 3-2 | Brazil |
| Poland | 3-1 | Serbia |
| | | |
| China | 3-0 | Austria |
| Russia | 3-0 | Serbia |
| Poland | 3-1 | Brazil |
| | | |
| China | 3-0 | Serbia |
| Austria | 3-0 | Poland |
| Brazil | 3-2 | Russia |
Group A Winners = China (proceed to q-finals)
Group A 2nd = Austria (proceed to round 2)
Group A 3rd = Poland (proceed to round 2)
Group A 4th = Russia
Group A 5th = Brazil
Group A 6th = Serbia
^ Top of page ^
Group B - Germany, Hong Kong China, Croatia, Singapore, Denmark, Ukraine
| Winner | Result | Loser |
| --- | --- | --- |
| Germany | 3-0 | Singapore |
| Hong Kong China | 3-0 | Ukraine |
| Croatia | 3-1 | Denmark |
| | | |
| Germany | 3-0 | Denmark |
| Croatia | 3-1 | Hong Kong China |
| Singapore | 3-1 | Ukraine |
| | | |
| Germany | 3-0 | Croatia |
| Singapore | 3-1 | Hong Kong China |
| Ukraine | 3-0 | Denmark |
| | | |
| Germany | 3-0 | Hong Kong China |
| Croatia | 3-1 | Ukraine |
| Denmark | 3-2 | Singapore |
| | | |
| Germany | 3-2 | Ukraine |
| Hong Kong China | 3-1 | Denmark |
| Singapore | 3-1 | Croatia |
Group B Winners = Germany (proceed to q-finals)
Group B 2nd = Singapore (proceed to round 2)
Group B 3rd = Croatia (proceed to round 2)
Group B 4th = Hong Kong China
Group B 5th = Ukraine
Group B 6th = Denmark
^ Top of page ^
Group C - Japan, Portugal, France, Greece, Romania, Hungary
| Winner | Result | Loser |
| --- | --- | --- |
| Greece | 3-2 | Japan |
| Portugal | 3-0 | Hungary |
| France | 3-0 | Romania |
| | | |
| Japan | 3-0 | Romania |
| Portugal | 3-1 | France |
| Hungary | 3-2 | Greece |
| | | |
| Japan | 3-0 | France |
| Portugal | 3-1 | Greece |
| Romania | 3-1 | Hungary |
| | | |
| Japan | 3-1 | Portugal |
| France | 3-1 | Hungary |
| Greece | 3-1 | Romania |
| | | |
| Japan | 3-2 | Hungary |
| Romania | 3-2 | Portugal |
| Greece | 3-1 | France |
Group C Winners = Japan (proceed to q-finals)
Group C 2nd = Portugal (proceed to round 2)
Group C 3rd = Greece (proceed to round 2)
Group C 4th = France
Group C 5th = Romania
Group C 6th = Hungary
^ Top of page ^
Group D - South Korea, Chinese Taipei, Sweden, Belarus, Spain, North Korea
| Winner | Result | Loser |
| --- | --- | --- |
| South Korea | 3-2 | Belarus |
| Chinese Taipei | 3-1 | North Korea |
| Sweden | 3-0 | Spain |
| | | |
| South Korea | 3-0 | Spain |
| Chinese Taipei | 3-1 | Sweden |
| North Korea | 3-0 | Belarus |
| | | |
| South Korea | 3-2 | Sweden |
| Chinese Taipei | 3-0 | Belarus |
| North Korea | 3-2 | Spain |
| | | |
| South Korea | 3-1 | Chinese Taipei |
| Sweden | 3-0 | North Korea |
| Belarus | 3-1 | Spain |
| | | |
| North Korea | 3-2 | South Korea |
| Chinese Taipei | 3-0 | Spain |
| Sweden | 3-2 | Belarus |
Group D Winners = South Korea (proceed to q-finals)
Group D 2nd = Chinese Taipei (proceed to round 2)
Group D 3rd = Sweden (proceed to round 2)
Group D 4th = North Korea
Group D 5th = Belarus
Group D 6th = Spain
^ Top of page ^
Knockout Stages - Round 2
Friday 2 May 2014
| Austria | Greece | 1 | 2 | 3 | 4 | 5 | Result |
| --- | --- | --- | --- | --- | --- | --- | --- |
| GARDOS, Robert | KREANGA, Kalinikos | 4-11 | 11-3 | 11-5 | 11-6 | | 1-0 |
| HABESOHN, Daniel | PAPAGEORGIOU, Konstantinos | 11-13 | 13-15 | 11-5 | 6-11 | | 0-1 |
| FEGERL, Stefan | RINIOTIS, Anastasios | 11-4 | 11-6 | 11-5 | | | 1-0 |
| GARDOS, Robert | PAPAGEORGIOU, Konstantinos | 11-8 | 11-2 | 11-6 | | | 1-0 |
| Chinese Taipei | Croatia | 1 | 2 | 3 | 4 | 5 | Result |
| --- | --- | --- | --- | --- | --- | --- | --- |
| CHEN, Chien-An | GACINA, Andrej | 6-11 | 11-6 | 11-9 | 11-13 | 7-11 | 0-1 |
| CHUANG, Chih-Yuan | KOLAREK, Tomislav | 11-9 | 11-7 | 14-16 | 9-11 | 11-6 | 1-0 |
| HUANG, Sheng-Sheng | TAN, Ruiwu | 11-7 | 9-11 | 11-8 | 11-9 | | 1-0 |
| CHUANG, Chih-Yuan | GACINA, Andrej | 11-7 | 11-5 | 11-9 | | | 1-0 |
| Portugal | Poland | 1 | 2 | 3 | 4 | 5 | Result |
| --- | --- | --- | --- | --- | --- | --- | --- |
| APOLONIA, Tiago | WANG, Zengyi | 7-11 | 11-13 | 12-14 | | | 0-1 |
| FREITAS, Marcos | GORAK, Daniel | 11-8 | 11-7 | 11-7 | | | 1-0 |
| MONTEIRO, Joao | FLORAS, Robert | 13-11 | 11-8 | 17-15 | | | 1-0 |
| FREITAS, Marcos | WANG, Zengyi | 11-5 | 11-8 | 6-11 | 14-12 | | 1-0 |
| Singapore | Sweden | 1 | 2 | 3 | 4 | 5 | Result |
| --- | --- | --- | --- | --- | --- | --- | --- |
| GAO, Ning | KARLSSON, Kristian | 7-11 | 11-6 | 16-18 | 13-11 | 11-5 | 1-0 |
| YANG, Zi | LUNDQVIST, Jens | 13-11 | 5-11 | 9-11 | 6-11 | | 0-1 |
| CHEW, Zhe Yu Clarence | GERELL, Par | 11-8 | 11-8 | 11-9 | | | 1-0 |
| GAO, Ning | LUNDQVIST, Jens | 11-8 | 11-8 | 11-6 | | | 1-0 |
^ Top of page ^
Knockout Stages - Quarter Finals
Friday/Saturday 2/3 May 2014
| China | Austria | 1 | 2 | 3 | 4 | 5 | Result |
| --- | --- | --- | --- | --- | --- | --- | --- |
| MA, Long | HABESOHN, Daniel | 11-9 | 11-9 | 12-10 | | | 1-0 |
| ZHANG, Jike | GARDOS, Robert | 11-5 | 10-12 | 8-11 | 14-12 | 11-5 | 1-0 |
| XU, Xin | FEGERL, Stefan | 11-4 | 11-4 | 11-4 | | | 1-0 |
| Chinese Taipei | South Korea | 1 | 2 | 3 | 4 | 5 | Result |
| --- | --- | --- | --- | --- | --- | --- | --- |
| CHEN, Chien-An | JOO, Saehyuk | 11-3 | 12-14 | 11-6 | 11-13 | 8-11 | 0-1 |
| CHUANG, Chih-Yuan | JUNG, Youngsik | 11-4 | 10-12 | 11-6 | 12-10 | | 1-0 |
| CHIANG, Hung-Chieh | CHO, Eonrae | 8-11 | 11-6 | 7-11 | 7-11 | | 0-1 |
| CHUANG, Chih-Yuan | JOO, Saehyuk | 9-11 | 6-11 | 14-12 | 11-6 | 11-2 | 1-0 |
| CHEN, Chien-An | JUNG, Youngsik | 11-6 | 6-11 | 11-7 | 11-9 | | 1-0 |
| Japan | Portugal | 1 | 2 | 3 | 4 | 5 | Result |
| --- | --- | --- | --- | --- | --- | --- | --- |
| NIWA, Koki | FREITAS, Marcos | 11-7 | 11-5 | 16-14 | | | 1-0 |
| MIZUTANI, Jun | APOLONIA, Tiago | 11-4 | 11-6 | 11-9 | | | 1-0 |
| MATSUDAIRA, Kenta | MONTEIRO, Joao | 11-7 | 9-11 | 12-10 | 11-7 | | 1-0 |
| Germany | Singapore | 1 | 2 | 3 | 4 | 5 | Result |
| --- | --- | --- | --- | --- | --- | --- | --- |
| OVTCHAROV, Dimitrij | CHEW, Zhe Yu Clarence | 11-5 | 11-8 | 11-3 | | | 1-0 |
| BOLL, Timo | GAO, Ning | 13-11 | 11-7 | 11-5 | | | 1-0 |
| FRANZISKA, Patrick | PANG, Xue Jie | 9-11 | 11-5 | 11-4 | 11-6 | | 1-0 |
^ Top of page ^
Knockout Stages - Semi Finals
Sunday 4 May 2014
| China | Chinese Taipei | 1 | 2 | 3 | 4 | 5 | Result |
| --- | --- | --- | --- | --- | --- | --- | --- |
| XU, Xin | CHEN, Chien-An | 11-7 | 11-8 | 11-8 | | | 1-0 |
| MA, Long | CHUANG, Chih-Yuan | 11-9 | 13-11 | 11-8 | | | 1-0 |
| ZHANG, Jike | HUANG, Sheng-Sheng | 11-6 | 10-12 | 11-3 | 11-6 | | 1-0 |
| Germany | Japan | 1 | 2 | 3 | 4 | 5 | Result |
| --- | --- | --- | --- | --- | --- | --- | --- |
| BOLL, Timo | NIWA, Koki | 16-18 | 11-5 | 11-4 | 14-12 | | 1-0 |
| OVTCHAROV, Dimitrij | MIZUTANI, Jun | 8-11 | 18-16 | 11-6 | 6-11 | 8-11 | 0-1 |
| FRANZISKA, Patrick | MATSUDAIRA, Kenta | 12-10 | 7-11 | 6-11 | 11-5 | 11-5 | 1-0 |
| BOLL, Timo | MIZUTANI, Jun | 11-6 | 11-5 | 11-6 | | | 1-0 |
^ Top of page ^
Final
Monday 5 May 2014
| China | Germany | 1 | 2 | 3 | 4 | 5 | Result |
| --- | --- | --- | --- | --- | --- | --- | --- |
| MA, Long | BOLL, Timo | 11-6 | 11-9 | 11-9 | | | 1-0 |
| ZHANG, Jike | OVTCHAROV, Dimitrij | 11-13 | 8-11 | 6-11 | | | 0-1 |
| XU, Xin | FRANZISKA, Patrick | 11-5 | 11-2 | 11-8 | | | 1-0 |
| MA, Long | OVTCHAROV, Dimitrij | 12-10 | 11-5 | 11-2 | | | 1-0 |