Table Tennis Shoes
Top tips to help you choose your ideal table tennis shoes.
Discover what you need to know
Your choice of table tennis shoes will largely depend upon your own personal preferences.
However, the main criteria for good quality TT shoes are that they need to have a grippy and non-slip sole, together with an upper material that allows your feet to breathe.
I also prefer a shoe that's as light as possible and I've used the Butterfly Radial range for many years.
Some people ask whether they can use other types of shoes, such as tennis or squash shoes to play table tennis. These types are shoes are not designed specifically for the rigours of modern table tennis and therefore I would not recommend wearing these.
Read my downloadable books for the best information
Buy Your TT Shoes Here
Butterfly, Donic, Joola & more
Buy Your TT Shoes Here
Butterfly, Donic, Joola & more
Here are a selection of table tennis shoes together with the manufacturers descriptions.
Choose your favourite...
Adidas NewTTennium II
A light responsive shoe for quick multi-directional movement.
Laces through 3 stripes construction optimizes both mid foot and lateral support as well as side step stability.
Non-slip heel lining for best protection against heel slip.
Butterfly Energy Force 1
Butterfly and Asics, the world's two top makers are combining their power to step into a new dimension.
The new table tennis shoe brand, jointly developed by these two, is "Energy Force"
High Shock Absorption - There is a high shock absorption "a gel" in the heel of the mid sole. It softens the shock from intense steps, and protects your knees and hips.
Light Weight and Soft Upper Design - We combined the light weight and flexible upper part of the shoe with a design that prevents sliding which can lead to injuries.
Butterfly Radial TB
Lightweight table tennis shoe with added ankle support.
Breathable net inlay. Shock absorbent sole with tacky sole for excellent grip.
New colourful appearance with an attractive blue design.
Butterfly Radial GS5
This lightweight table tennis shoe combines the elements of the Radial TB with a slightly thicker sole to give you more shock absorbance for high impact movements.
Good grip on the sole and support in the midfoot area gives you high performance for the movement used in the modern table tennis game.
Donic Waldner Flex
The new table tennis shoe of the highest quality.
Waldner's preferred shoe - ideally suited for the rigours of modern play. The sole is particularly grippy and non-slip.
The upper nylon mesh material allows the foot to breathe and is comfortable to wear. The shoe is light and flexible, and ensures perfect balance, even with the most demanding movement. EVA-inner orthopaedic shock absorbing sole.
You can buy this shoe from Amazon.com - click here
Donic Drifter
An extremely flexible shoe with a high grip sole, especially designed for table tennis.
Micro lamellas distributed over the whole sole guarantee maximum floor contact.
EVA insoles ensure perfect shock absorption, whilst rounded rims enhance quick reactions - features essential for the side to side movements which are typical of table tennis.
The outer material is a combination of light perforated nylon mesh, and robust nylon.
Buy Your TT Shoes Here
Butterfly, Donic, Joola & more
Buy Your TT Shoes Here
Butterfly, Donic, Joola & more
Donic Targa Flex
A new table tennis competition shoe with a contoured EVA middle sole.
Donic Targa Flex combines lightness with the maximum shock absorbing qualities of the EVA sole.
The shoe's upper consists of a permeable mesh, combined with robust nylon.
The flexibility of the rubber sole ensures excellent gripping qualities - highly essential for the quick sideways movements required during a table tennis match.
Donic Mega Flex
The Donic designers have developed a new shoe especially made for the high demands of competition table tennis - extremely high flexibility, optimum contact to the floor, highly-gripping sole.
The EVA middle sole makes it very pleasant to wear. Outer material made of breathable nylon mesh and stabilizing soft synthetic trim.
Joola Bend
Walking in the air!
This very stylish and ultra-lightweight table tennis shoe is not only superbly fashioned but offers the highest technical features required by all serious table tennis players.
The upper comprises lightweight Nano-PU material in combination with breathable mesh material that disperses perspiration. The lightweight middle sole, made of Pylone, guarantees maximum comfort at an amazingly low weight.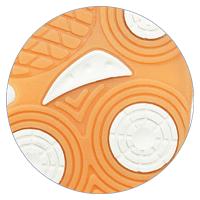 The special in-built shafts, made of TPU, provide excellent support, good foot stability and high resistance against wear and tear, while the elaborate manufacture of the sole with specially located suction cups provides the best possible non-slip features on all kind of floors.
Joola Court 07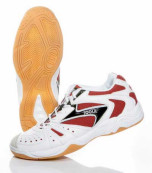 The Court has been updated but retains the superb quality, excellent support and grip.
The 'contact feel' with the floor permits excellent lateral movement and most importantly the 2K-cushion dampening system is retained.
This provides double dampening to the sole:
The outer heel area has a special air cushion inserted which absorbs the energy arising from stepping so that a shock absorbing and ankle saving effect is reached.
The main heel area features an integral hard foam to absorb strain
The extreme non-slip sole provides perfect grip, the synthetic leather upper provides long durability, while the mesh panels allow the foot to breathe.
Tibhar Progress Alpha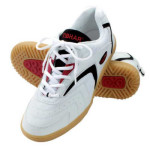 The return of the classic Tibhar 'Progress' shoe. Revised and modernised but retaining all the essential Progress features:
Lightness
Strong grippy sole made from natural rubber for maximum rotation
Leather and breathable mesh upper
Stiga Royal ERS Gel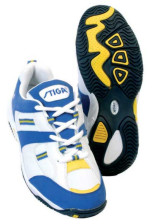 Lightweight shoe that allows the player to have firm contact with the floor.
The upper has a breathable material for extra comfort and the E.R.S. Gel insole comprises soft and elastic EVA plus a shock absorbing gel in the heel.
Buy Your TT Shoes Here
Butterfly, Donic, Joola & more
Buy Your TT Shoes Here
Butterfly, Donic, Joola & more
MORE PAGES ABOUT
CHOOSING YOUR TABLE TENNIS EQUIPMENT
For more information, tips and recommendations about table tennis equipment, take a look at my other articles...
Table Tennis Rackets (paddles / bats)
Table Tennis Tables
Table Tennis Nets
Table Tennis Balls
Table Tennis Shoes
Table Tennis Robots
Table Tennis Manufacturers/Suppliers
Interviews with Table Tennis Manufacturers/Suppliers
Recommended Table Tennis Equipment